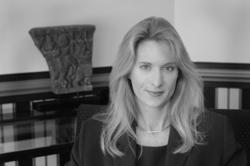 Kim has a tremendous skill set that extends beyond trademarks and brand protection to many other facets of IP law.
(PRWEB) January 05, 2012
Bowie & Jensen, one of Maryland's leading business law firm's, is pleased to announce that Kimberly S. Grimsley has been elected to the firm's membership effective January 1, 2012. Ms. Grimsley practices in the firm's Intellectual Property Department and leads the firm's Trademark Group.
"Kim is the head of the firm's Trademark department, managing an extensive range of intellectual property (IP) responsibilities. Having had the good fortune of working with Kim for many years, I can attest to her deep knowledge and foresight in the IP field, including the need for in-house legal departments to work with a company's marketing and branding operations to resolve the often complex minefield of trademark acquisition, enforcement and protection," said Michael Oliver who heads the firm's IP department. "Kim has a tremendous skill set that extends beyond trademarks and brand protection to many other facets of IP law. Our group and entire firm are significantly enhanced with Kim's election to membership and I look forward to working with her in the future for the benefit of our clients."
Ms. Grimsley's practice concentrates on intellectual property, internet, computer, social media marketing and business law matters. Her work encompasses the protection, acquisition, use and licensing of trademarks, copyrights, and computer hardware and software. She regularly counsels clients through the entire trademark process, beginning with assessing the availability of a mark and continuing through the application process, obtaining the registration and ultimately maintaining the registration. Her trademark practice is not limited to the United States, but includes trademark protection internationally as well.
Policing marks is essential in protecting trademark rights. Ms. Grimsley has resolved numerous trademark disputes efficiently without litigation when possible by negotiating various co-existence, consent, and licensing agreements to protect clients' marks in a cost-effective manner. When litigation is required, she has handled numerous opposition and cancellation proceedings before the Trademark Trial and Appeal Board. Her experience also includes counseling clients on domain name issues and handling matters through the Uniform Domain Name Dispute Resolution Policy UDRP and under the Anticybersquatting Consumer Protection Act.
In addition to intellectual property matters, Ms. Grimsley has counseled business clients on matters concerning compliance under HIPAA and the HITECH Act. She has handled a variety of trial and appellate matters in State and Federal court and various administrative agencies. Her litigation practice has included areas such as intellectual property, financial services, tax, property, construction, employment, energy and environmental law. Ms. Grimsley graduated from Stevenson University and received her Juris Doctor, magna cum laude, from University of Baltimore School of Law.
"Kim understands and embodies our firm's commitment to putting the needs of our clients at the forefront and offering top-notch service," said Mark Jensen who leads the firm's Transaction Department. "'Bowie & Jensen's continued investment in exceptional individuals is testament to our commitment to understanding and responding to our clients' needs."
Bowie & Jensen
Bowie & Jensen is a Maryland-based law firm with attorneys representing clients around the world. Bowie & Jensen focuses on Business Litigation, Business Transactions, Construction Law, Entertainment Law, Employment Law, Estates & Trusts, Intellectual Property, Real Estate and Tax Law. For more information on Bowie & Jensen, please visit http://www.bowie-jensen.com.
# # #