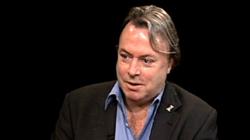 San Francisco, CA (PRWEB) January 01, 2012
FORA.tv, the leading online destination for video programs from the world's best conferences and events, announced today its Top Ten Videos of 2011, completing a day-by-day countdown begun in late December 2011. Selected videos were chosen from among FORA.tv's wide range of offerings, spanning topics such as science, technology, the environment, the economy, politics and culture. FORA.tv selected as its top pick of the year a series of videos celebrating the life and intellectual firepower of one of its favorite speakers, the great iconoclast Christopher Hitchens.
In this collection Hitchens addresses such issues as the existence of God, great literature, sixties radicals, President Obama's Israel Policy, and his favorite whiskey at such notable venues as the New York Public Library, the Hoover Institution, the Commonwealth Club and the 92nd Street Y.
The complete FORA.tv 2011 Top Ten List is below. All listed videos are available for viewing at FORA.tv. Video player embed codes are available for all video for reposting to additional sites.
10. 'Nice' is Not an Adjective to Describe Steve Jobs
Steve Jobs lived as if the normal rules didn't apply to him, says Walter Isaacson, the biographer of Apple's cofounder. December 14, 2011; Commonwealth Club, San Francisco, CA.
9. Michael Moore: Here Comes Trouble
The controversial filmmaker discusses the student loan crisis, the failing GOP, and Obama's disillusioned progressive supporters. October 2, 2011; Sixth and I Historic Synagogue, Washington, DC.
8. There Never Was a First Homo Sapiens
The missing link in human evolution: Can we really tell the exact moment when one species evolves into another? October 1, 2011, New Yorker Festival; New York, NY.
7. Debate: The World Would Be Better Off Without Religion
In this highly charged debate presented by Intelligence Squared U.S., humanist and theology scholars argue whether or not religion helps or hinders the progress of humanity. November 15, 2011; NYU Skirball Center; New York, NY.
6. Slavoj Žižek: Catastrophic But Not Serious
Our modern, 21st century world is faced with a number of threats. Why don't we take them seriously? April 4, 2011; CUNY Graduate Center; New York, NY.
5. Steven Pinker: Language as a Window into Human Nature
This fascinating and humorous animated lecture details how we use passive language to gain trust or build relationships. February 4, 2011; The RSA; London, UK.
4. Are Humans Just Another Primate?
A professor of biology and neurology at Stanford University identifies what's truly novel about humanity. February 15, 2011; California Academy of Sciences; San Francisco, CA.
3. Venture Capitalist Roger McNamee Says 'Google Is Done'
Elevation Partners co-founder Roger McNamee claims Google has become too successful and its product is now polluted. June 28, 2011; Paley Center for the Media; Los Angeles, CA.
2. WikiLeaks: Why It Matters, Why It Doesn't?
An expert panel discusses the right of government to keep secrets vs. the right of citizens to know the truth. January 19, 2011; Churchill Club; Santa Clara, CA.
1. Christopher Hitchens (1949-2011)—A Tribute
The FORA.tv community celebrates the life and words of one of our favorite speakers, the great iconoclast Christopher Hitchens. A Series featuring Christopher Hitchens.
ABOUT FORA.tv
FORA.tv is the leading online destination for video programs from the world's best conferences and events. With more than 10,000 free and fee-based videos and its iPad "Conference Channel" app, FORA.tv has the web's largest collection of programs that feature the people, issues, and ideas changing the world. FORA.tv helps hundreds of organizations including the Aspen Institute, the Economist, the New York Public Library, and Wired expand the audience for their events. FORA.tv has been named a Top 50 Web Site by TIME, and a Top Education Site by The Telegraph. FORA.tv is funded by a select group of investors led by William R. Hearst III and is based in San Francisco.
###