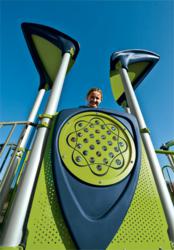 Delano, MN (PRWEB) January 19, 2012
Landscape Structures Inc., a Delano, Minn.-based commercial playground equipment manufacturer, has introduced the PlayBooster® Vibe™. The new playsystem puts a modern twist on traditional post-and-deck playsystems. The Vibe uniquely combines materials to modernize PlayBooster playground components including roofs, play panels and climber handholds.
PlayBooster playstructures were Landscape Structures' first post-and-clamp-based playsystems. The playsystem, introduced in 1981, has been a staple in playground designs because of its limitless configurations. With the introduction of the Vibe, Landscape Structures is taking playground design to new heights. The combination of materials creates triangular shapes and cool textures to provide a contemporary look for community and school playgrounds. The unique playsystem makes a big impact while fitting into its surrounding environment.
The Vibe, designed for ages 5 to 12, can be configured to include ground-level components, climbing events, overhead activities and much more. Whichever design is chosen, customers can feel confident that the Vibe meets all safety and environmental standards. And like the rest of Landscape Structures' playground products, the Vibe is built to last for generations with minimal maintenance and exceeds ADA requirements so that children of all abilities can play together. The Vibe not only offers a whole-body strength and aerobic workout, but children will have hours of fun as they navigate through the innovative playsystem.
In addition to the fresh new look, the Vibe offers a great way to update current PlayBooster playstructures. Swapping a Vibe Enclosure or Climber handhold will help revive an aging playground, while keeping budgets in check. Expand an existing playsystem and include the Vibe Roof, which offers endless design possibilities.
Since 1971, Landscape Structures Inc. has been the leading commercial playground equipment manufacturer in the world. The employee-owned company is committed to making the world a better place with active children thriving in leading communities year after year, generation after generation. Landscape Structures encourages outdoor play that develops healthy kids and a sustainable world by creating innovative products that are environmentally responsible. The company's mission from day one has been to enhance children's lives by fostering and creating inspiring play experiences while honoring the environment.
###