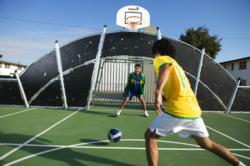 "KOMPAN's commitment to building healthy communities through sustainable play is at the core of our company. At KOMPAN we believe there's an athlete in each of us — FREEGAME lets each of us find our game." Kerrin Smith, President of KOMPAN, Inc.
Tacoma, WA (PRWEB) January 02, 2012
KOMPAN has teamed up with ABC's hit series Extreme Makeover: Home Edition to introduce the multisport concept of FREEGAME to the community of tornado-ravaged Joplin, MO. ABC will showcase the FREEGAME build on an upcoming two-hour special episode of Extreme Makeover: Home Edition dedicated to rebuilding Joplin after homes, businesses and playgrounds were destroyed by the May 2011 tornado.
FREEGAME is an innovative multisport solution that can be used for soccer, volleyball, basketball, field hockey or any game players create. This cutting-edge FREEGAME installation was funded in part by KOMPAN was built by KOMPAN staff and nearly 100 volunteers. The special Joplin episode of Extreme Makeover: Home Edition is scheduled to air Friday, January 13, 2012.
About ABC-TV's "Extreme Makeover: Home Edition"
The Emmy award winning reality program "Extreme Makeover: Home Edition," now in its 9th season, is produced by Endemol USA, a division of Endemol Holding. It's executive-produced by Brady Connell and George Verschoor. David Goldberg is Chairman, Endemol North America. Episodes air Friday nights from 8:00 – 9:00pm, ET on ABC.
About KOMPAN
KOMPAN, Inc. is a world leader in the design, manufacture and marketing of innovative commercial playgrounds and outdoor recreation equipment. KOMPAN specializes in designing unique, age-appropriate, and high-quality products that combine the most stringent environmental standards and exceptional play value. KOMPAN offers unique and challenging products for every stage of development. For more information about KOMPAN, our products and our environmental leadership please visit our website at http://www.kompan.com.
###