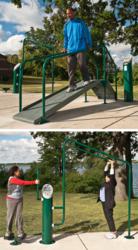 Delano, MN (PRWEB) January 30, 2012
Landscape Structures Inc., a Delano, Minn.-based commercial playground equipment manufacturer, has introduced two new stations for its HealthBeat® outdoor fitness system. The new Mobility and Stretch stations provide a more complete fitness experience for teens and adults. Best of all, HealthBeat features Landscape Structures' industry-leading quality, durability and value.
The HealthBeat outdoor fitness system was introduced in 2008 to encourage multigenerational interaction along with fitness. The two new fitness stations join nine others ranging from the Cardio Stepper to Squat Press and Tai Chi Wheels to make it easy to create an outdoor fitness environment to meet the unique needs of community members.
Users of the HealthBeat Mobility station will be safely challenged to develop better balance, which is an essential functional fitness skill for older adults. In addition, balance exercises are necessary for many rehabilitation programs. The Stretch station supports the stretching of upper body muscles as well as the often difficult to target core muscles. This exercise station will help users maintain flexibility and range of motion.
With the introduction of the Mobility and Stretch stations, HealthBeat offers more design flexibility to fit into any site. The 11 stations can be clustered together to create an outdoor circuit training gym or located along a trail to encourage walkers and joggers to use more muscle groups and burn more calories. HealthBeat can also be placed next to a playground so that parents and other guardians can exercise while keeping an eye on the kids.
In addition to the instructional signage included with each fitness station, Landscape Structures has created a HealthBeat User Guide available for download at playlsi.com. The User Guide provides information on adult fitness, how to create an exercise program, exercise variations and how to modify your workout to increase levels of challenge.
Since 1971, Landscape Structures Inc. has been the leading commercial playground equipment manufacturer in the world. The employee-owned company is committed to making the world a better place with active children thriving in leading communities year after year, generation after generation. Landscape Structures encourages outdoor play that develops healthy kids and a sustainable world by creating innovative products that are environmentally responsible. The company's mission from day one has been to enhance children's lives by fostering and creating inspiring play experiences while honoring the environment.
###