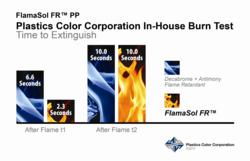 PCC developed FlamaSol FR™ in response to a rising need in the marketplace for safer flame resistant plastics.
Calumet City, Ill. (PRWEB) January 04, 2012
PCC (Plastics Color Corporation), a leading supplier of color concentrates, compounds and additive masterbatches for the plastics industry, today announced the availability of a decabrome-free flame retardant system for polypropylene. The product line, FlamaSol FR™, was developed at PCC's Solutions Center in Asheboro, N.C.
According to PCC Development Engineer David Witt, "FlamaSol FR contains no decabrome or antimony, two harmful chemicals, yet demonstrates better extinguishing results than our previous flame retardant." According to Witt, "both of these chemicals are being phased out of flame retardants by the end of 2012, so we developed FlamaSol as a new option for our customers."
The Solutions Center developed FlamaSol FR™ in response to a rising need in the marketplace for safer flame resistant plastics. A team of scientists at PCC tested a wide variety of materials under simulated temperature and combustion conditions to discover the best proprietary formulation of fire retardant compounds.
FlamaSol FR is ideal for use in construction materials (electrical conduit, junction boxes, switch boxes), warehouse products (shelving and pallets), personal electronic equipment (computers, printers and televisions) and other applications where extreme heat may cause ignition. FlamaSol FR surpasses testing standards of UL 94 and ANSI 4996 for plastic pallets and performs better than PCC's previous flame retardant systems (see attached graph). FlamaSol FR PP is appropriate for use in injection molding, extrusion and blow molding applications.
PCC Vice President of Business Development Tim Workman said that "the development of FlamaSol FR is just one more example of how PCC continues to work with our customers to solve problems and create leading products and services."
FlamaSol is available in white, black and natural masterbatches and PCC can custom-formulate it for any color. PCC is currently working on a FlamaSol product for PE.
About Plastics Color Corporation
Plastics Color Corporation (PCC), headquartered in Calumet City, Ill., is a global provider of colorants, compounds, additive masterbatches and custom polymer solutions for an extensive range of markets including pharmaceuticals, medical, consumer goods and others. PCC supports virtually every type of manufacturing process and material. We engage our customers from concept to commercialization and help them develop new cutting-edge products that lead the market. PCC has more than 40 years' experience in the polymer industry and operates fully-equipped product development laboratories and manufacturing facilities in California, Illinois, North Carolina, and Nanjing, China. PCC's Illinois and North Carolina labs are certified by the American Association for Laboratory Accreditation, A2LA. PCC also provides testing and product development services through our Solutions Center in Asheboro, N.C. For more information, call (800) 922-9936 or visit http://www.plasticscolor.com.
###