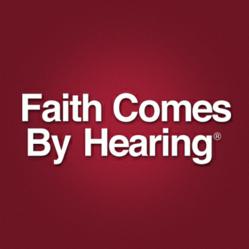 These benchmarks are an indication of how powerful partnerships are in ministry work.
Albuquerque, N.M. (PRWEB) January 03, 2012
It has been an exciting and productive year for the world's foremost Audio Bible ministry. Faith Comes By Hearing (FCBH) has surpassed several milestones as the ministry continues to reach out with the Word of God in audio. The ministry now has Audio New Testaments in over 600 languages, deployed over 150,000 Military BibleSticks for American troops, delivered more than 300,000 Proclaimers throughout the world, and developed Bible apps for 40 Bible Society partners.
Having passed the 600-language mark this last October, Faith Comes By Hearing finished the year with Audio New Testaments in the heart language of 618 people groups around the globe. All told, these languages are spoken by over 5 billion people, or more than two-thirds of the world's population.
While these language recordings can be listened to through online streaming, podcasts and on the ministry's smartphone app (Bible.is), FCBH also continues to reach out to every village, tribe and people group through their solar-powered, digital audio player called the Proclaimer. With initial production beginning in 2005, the ministry has now shipped more than 300,000 devices – which have resulted in more than 630,000 listening groups worldwide.
Initially started in 2008 to meet the request of a handful of active duty chaplains, the Military BibleStick outreach also saw a landmark number passed this year. There are now more than 150,000 BibleSticks in the hands of America's men and women in uniform, as Faith Comes By Hearing has filled requests from over 900 chaplains seeking to meet the spiritual needs of the troops they serve.
"These benchmarks are an indication of how powerful partnerships are in ministry work," states Morgan Jackson, FCBH's international director. "Without friends in other ministries – like translators, Bible Society leaders, military chaplains and donors who fund the work – none of these accomplishments would be possible."
Jackson's statement of course includes working to bring 40 Bible Societies their own app for Android and iOS platforms. These ministry partners now have a 21st century technology that allows them broader access in which to impact the world with the Word of God. Together with Bible.is, this family of apps provides unprecedented access to the Scriptures in both text and audio.
Established in 1972, Faith Comes By Hearing looks forward to celebrating 40 years of ministry throughout 2012. The ministry remains committed to providing God's Word in audio to every nation, tribe, village and tongue.
###