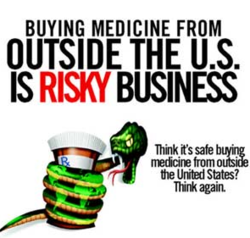 "There are hundreds of websites out there that offer rock-bottom prices for consumers who want to get their medications outside of the U.S.," Marketing Strategist Vinny Ciancio for Edrugstore.md said. "We caution everyone against these sites because these
Tempe, AZ (PRWEB) January 05, 2012
These days, consumers can buy anything online. From Ebay to Amazon, online retailers to grocery store vendors, there is no shortage of fast and easy ways to get products delivered straight to a consumer's home. While technology has granted us this convenience, there are still a lot of traps that consumers need to be aware of, especially when it comes to ordering medications through an Internet facilitator. Edrugstore.MD is proud to release a guide that educates the consumer on how to avoid counterfeit pills.
Edrugstore.MD has created and distributed helpful guides for consumers to spot fake pills. The top two tips to avoid fake medications are:
1.) Never buy medications from sources outside of the United States
"There are hundreds of websites located out there that offer rock-bottom prices for medications who want to get their medications outside of the U.S.," Marketing Strategist Vinny Ciancio for Edrugstore.MD said. "We caution everyone against these sites because these medications are often created in unsafe conditions and can be harmful to your health."
As an online facilitator, Edrugstore.MD insures the quality and authenticity of each medication with U.S. certified physicians and U.S. certified pharmacists. All of the medications are U.S. FDA approved and purchased directly from leading U.S. pharmaceutical manufacturing companies.
2.) Never buy "generics"
The most popular counterfeit pills sold online are those for erectile dysfunction. Marketers try to sell generic Viagra, Cialis and Levitra, but the FDA has not approved any generic form of these medications.
"Consumers should keep their eye out for sites that claim to sell any kind of generic or herbal form of erectile dysfunction drugs," Ciancio said. "Another red flag should go up if a consumer sees long shipping times, that could indicate the drugs are coming from another country."
At Edrugstore.MD the medications come licensed pharmacies, which guarantees the medication sold is the real deal.
The health risks
Fake medications are no joking matter. Unsafe medications can cause serious illness, or even death. In 2008, an estimated 80 Americans died after being given counterfeit heparin, a drug used to treat blood clots.
"It's a serious problem in the United States right now," Ciancio said. "The bottom line is that consumers need to be aware of these counterfeit pills and they need to buy medications from reputable Internet facilitators, otherwise the risks could be fatal."
For more helpful tips on consumer safety from Edrugstore.MD, make sure to Follow Edrugstore.MD on Twitter and Edrugstore.MD on Facebook.
About Edrugstore.MD
As a trusted online facilitator, our first priority is to the consumer. Over the past 9 years Edrugstore.MD has built a solid reputation as an Internet facilitator for consumers in need of lifestyle medications.
###