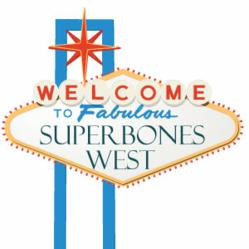 Podiatric Lectures * Hands On Workshops * Exhibitors * 20 CME's * Great Networking... all in the new Aria Hotel & Resort, CityCenter, Las Vegas
Las Vegas, NV (PRWEB) January 24, 2012
The Superbones Conferences is pleased to announce it has signed a definitive agreement to host the 2012 Superbones West Conference at the brand new Aria Hotel in the breathtaking ultra-modern CityCenter in Las Vegas, Nevada on October 18-20, 2112. Known for presenting the highest quality podiatric CME conferences at the coolest state of the art hotel destinations, Superbones West will be the first podiatric conference held at a CityCenter venue.
It's been more than 18 years since the first Superbones gathering of podiatric surgeons and footcare specialists, and this event is still going strong. With quality education opportunities and lectures by nationally recognized figures in the field of podiatry, these workshops and lectures on lower extremities have earned Superbones the finest reputation among the many specialists attending the conference. This is an ideal event for gaining new knowledge, firsthand, and networking with other practitioners.
The Aria Resort is modern and lush. With luxury room accommodations and floor to ceiling corner windows, the views are spectacular. Dining can be casual to upscale with a Michelin 3 star chef delighting guests at the restaurant, Barmasa. There are many restaurants from which to choose, offering various cuisine samplings, day and night. While the medical conference will broaden each participant's knowledge, time should be set aside to capitalize on the many leisure activities the resort has to offer.
When not attending one of the many medical lectures, guests may take advantage of Aria's numerous amenities. Options include sipping drinks in a private cabana, poolside, or having a limousine whisk outdoor lovers to Shadow Creek for a round of golf with a personal caddy. For those who prefer to stay indoors, Aria offers first class spa amenities. A massage is bound to relax after a day of learning and podiatric surgeons can certainly appreciate the footcare in the well-designed salon. Heated stone beds and a salt room are also available for each guest.
Las Vegas is known for its shows and casinos, and Aria will not disappoint those who come to play during off hours. 150,000 square feet of poker, slots and table games are available at all hours for welcomed guests. If an Elvis sighting is in the cards, visitors can purchase tickets for Cirque du Soleil's, Viva Elvis, to watch an exhilarating performance set to the music of a man whose name is synonymous with Las Vegas.
Other highlights include a vast array of shopping options, in house and next-door at Crystals, and a beautiful art gallery in City Center's public space. One must take advantage of the nightlife, while in town, in one of Aria's several contemporary lounges or maybe even book a tour of the Grand Canyon. Someone will always be on hand at the tour desk for guidance.
There is no reason to miss this exciting and informative event. SuperbonesWest.com can be used for CME credits and the many workshops and seminars will undoubtedly create growth in the podiatric field. With a new and exciting location, timely lectures and a plethora of exhibitors, this event should enhance each participant's knowledge, while creating an eventful getaway.
###