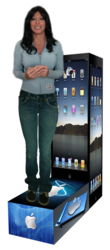 aside from the amazing concept itself, add in the interactivity of our Advanced QR Codes™, AromaFusion™ scent technology and our new Speaking Glass™ Storefront Audio System and it becomes clear that we are without competition
Charlotte, NC (PRWEB) January 04, 2012
The Holographic Greeter is an exciting information, branding and promotional messaging medium which displays a holographic image projected onto a life-sized cut-out that is so unique and lifelike, Shoppers can't help but stop and stare. The Holographic Greeter can be positioned virtually anywhere and is a high-tech communications platform that serves up in-store information and personal greetings in a decidedly unique fashion. Because the Holographic Greeter is so animated and compelling, Advertisers can deliver their message or introduce new products to a receptive audience without intimidation. Retailers, Museums, Hotels, Attractions, Mass Transit, Schools, Hospitals, Trade Expos, Doctors, Offices, etc are finding this a must have for engaging the Customer and meeting their marketing objectives. They also find the Holographic Greeter to be one of their most valuable employees by delivering their message 24 hours a day, seven days a week… no coffee breaks, no smoke breaks, no calling in sick!
Recently, Marketing Ad Group took their patented Holographic Greeter to a new level by incorporating Advanced Next Generation QR Codes into the Greeter's message. By using color coded QR Codes, the Greeter can convey any message… from simple contact information, reservations or directions, to in-depth web based interaction on it's GREEN colored INFO QR Codes. The red colored DISCOUNT QR Codes offer up discounts or special offers, further enticing patrons. BLUE colored INTERACTIVE SURVEY QR Codes allow Retailers instant access to feedback via predetermined questionnaires. By taking the interactive Survey, Patrons can be rewarded with "instant off" rewards, which can immediately be sent directly to their smart phones upon completion of the survey, further compelling participation. Marketing Ad Group's "Real Time QR Click Management System™" provides detailed QR tracking capabilities allowing Retailers to actively track and manage campaign results in "real time."
Next they "upped the game" by engaging memory and emotions through their AromaFusion™ scent delivery system, creating a total immersion experience for Retailers, Advertisers and Patrons. It has been well documented that smell can have a halo effect and put Shoppers in a positive mood, which affects their perception of a product or their environment. The sense of smell goes straight into the limbic system in the brain, which is responsible for emotions and decision-making. Brand memory and increased attention and interaction are directly influenced by this powerful emotional motivator.
Now, Marketing Ad Group is offering their new Speaking Glass™ storefront audio system for the Holographic Greeter. This system allows the Greeters message to be heard through storefront glass, further delivering the Retailers message without the need for extensive and expensive outdoor speakers and wiring. The Speaking Glass™ storefront audio system actually uses the storefront glass as a speaker allowing Retailers to literally take their message "to the streets," creating an audio and visual experience not soon forgotten by passers- by.
Bill Barrett, Product Development Manager with Marketing Ad Group, says "aside from the amazing concept itself, add in the interactivity of our Advanced QR Codes™, the introduction of our AromaFusion™ scent technology, wireless video updating and our new Speaking Glass™ Storefront Audio System and it becomes evident that we have a package that is completely without competition for delivering your marketing message."
Marketing Ad Group offers the Greeters for lease, purchase or through their Co-Op Program which offers participating Retailers an opportunity to turn this captivating promotional and branding concept into a revenue producing vehicle for their business while also benefiting from the increased exposure and sales lift provided by this captivating device.
For more information, contact Bill Barrett at 888-965-5336, or visit http://www.holographicgreeter.com.
###