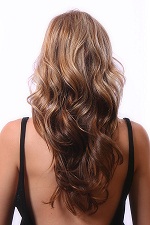 We have several clients who have become Nigelle HY addicts and come in for the service every six weeks.
Fairfax, VA (PRWEB) January 04, 2012
Ask any woman about keratin treatments and you will hear responses ranging from "they've changed my life" to "don't they cause cancer?" The FDA recently warned consumers against the service and the topic was even debated on the Today show. With all the recent publicity on keratin treatments, owner and master stylist of Salon Khouri, Jonathan Elkhouri, weighs in on the controversy that has caused a kink in the hair industry and offers an advice on alternatives.
Keratin hair treatments have been all the rage over the past several years. From Hollywood celebs to suburban moms, the treatment has women returning to their salon religiously every twelve weeks for the service. Women with coarse, frizzy hair have had their unruly manes transformed into smooth, manageable locks after just one service. The treatment works by applying a keratin protein to the hair then applying heat to the hair to seal the keratin in. This process straightens and smooths frizzy hair. Women who have had the treatment done swear by it. "My blow dry time went from forty minutes before the treatment, to about 10 minutes after having the treatment," states Fran Lovaglio, a customer of the Fairfax, VA hair salon, Salon Khouri. "What I love best," she continues, "is the fact that I can wear it straight easily, but I haven't lost my curl." However, for as many keratin converts there exists just as many keratin skeptics. There is a lot of controversy about the safety of the treatment as many of the products used for keratin treatments contain formaldehyde, a compound suspected to be a carcinogen. The FDA recently issued a warning to the makers of Brazilian Blowout stating that their product releases dangerous amounts formaldehyde and gave them an ultimatum -- relabel or reformulate, or have your product seized. In April 2011, OSHA issued a hazard alert to salon owners and employees about the potential exposure to formaldehyde from keratin treatments.
Jonathan Elkhouri, master stylist and owner of Salon Khouri in Fairfax, VA, answers questions daily from customers about the service. "You can tell there is trepidation with some customers. They may have heard a story about someone getting a keratin treatment whose hair fell out after the treatment. Or, they think that getting the service done will give them cancer." Jonathan explains a few simple steps to ensure that you and your hair will be safe when getting the treatment.
He states the first step is to find a reputable salon with licensed and trained technicians. "The service is an extremely delicate balance of using the correct product, the correct amount of the product, and the correct amount of heat when sealing the keratin into the hair," states Jonathan. "Some products contain amounts of formaldehyde that are not safe." He recommends looking for a salon that carries a keratin product that has very little formaldehyde or is formaldehyde-free. "However, even the formaldehyde-free products have compounds that emit formaldehyde when heated." Which Jonathan uses as a segue way to his second piece of advice, "Look for a salon that has adequate ventilation." When building his salon, Jonathan had more ventilation installed per square foot than was required by building code. "The last thing we wanted was for a customer coming in for a relaxing conditioning treatment to be overwhelmed by the smell of someone getting a color or other chemical service. Since the real danger with keratin treatments is the inhalation of formaldehyde when the keratin product is heated to a point where the formaldehyde gas is released, proper ventilation is key." Proper ventilation ensures that the emitted level of formaldehyde is safe according to OSHA standards. Finally, Jonathan recommends asking the stylist for a complimentary consultation prior to the service to ask them pointed questions such the number of treatments they've perfomed, about the brand of keratin they use, and about the results they've seen. "If the stylist seems to be unable to answer these questions or is unsure, find another salon," Jonathan states bluntly. "Also, please let your stylist know about any inflammatory scalp conditions like psoriasis or seborrheic dermatitis, and about any chemical treatments on your hair in the past."
For those who are still skeptical about keratin treatments, there are alternative products available. A hot ticket item at Salon Khouri is the Nigelle HY treatment, completely free of formaldehyde. Jonathan is up front about what clients can expect: "This treatment will not straighten curly hair, but it will make course or damaged hair much more smooth. This is not a heat treatment, but an intense conditioning treatment that will transform the hair to create brilliant shine, healthy bounce and a super silky feel."
Salon Khouri was founded in 2005 and is located in Fairfax, VA. The salon offers a full menu of hair services and is a top-rated salon in the Northern Virginia area. Owner Jonathan Elkhouri has trained with Nick Arrojo at his SoHo, NY studio and is a stylist to several Washington DC celebrities. For more information, please visit http://www.salonkhouri.com.
###