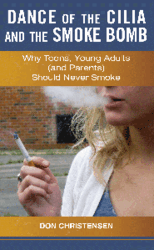 This direct 'in your face' new book details the dangers of smoking for people of all ages.
Fort Collins, Colo. (PRWEB) January 04, 2012
This direct "in your face" new book details the dangers of smoking for people of all ages. The author, in fact, compares smoking a cigarette to inhaling a smoke bomb that releases "an explosion of toxins" into the smoker's lungs via "chemical shrapnel." Cigarette marketing provides several "reasons" for someone to smoke, extolling coolness, rebellion and sexiness, he writes. The author works to offer many more reasons for people to quit, exposing the medical realities of inviting smoke laced with 7,000 chemicals into someone's body.
"Dance of the Cilia and the Smoke Bomb" covers such important topics as addiction, tissue and organ damage, cancer, lung disease, effects on the cardiovascular system, and the financial cost of smoking. About 1,000 teens become daily smokers every day, according to the 2010 Surgeon General's report, the author notes, at a time when lungs are still growing and maturing. Smokers may not realize that their habit doesn't affect just their lungs. In fact, tobacco smoke also can increase peptic ulcers, osteoporosis, pregnancy complications, low infant birth weight, cataracts, gum disease and cancer risk for the bladder, mouth, lips, larynx, stomach and other organs, the author writes. Smoke also is a major risk factor for cardiovascular disease, the author writes, contributing to coronary artery disease, strokes, peripheral artery disease and high blood pressure.
The book's easy-to-comprehend style puts information about the dangers of smoking into language everyone can understand, and is especially written for teens and young adults. It actually explains how the diseases caused by smoking occur. It also offers suggestions for quitting the potentially deadly habit while acknowledging the strong influence of addiction. The author backs up his anti-smoking message with facts from his own experience studying disease, as well as including government studies with statistics, a glossary of medical terms and a list of references.
Author Don Christensen is an instructor at Front Range Community College and Aims Community College in Colorado, teaching anatomy, physiology, cadaver dissection and pathophysiology, the study of disease and diagnosis. He graduated from California State University and Palmer College of Chiropractic, practicing as a Doctor of Chiropractic in San Diego.
For information, please visit http://www.danceofthecilia.com.
Dance of the Cilia and the Smoke Bomb: Why Teens, Young Adults (and Parents) Should Never Smoke
Don Christensen
Dog Ear Publishing
ISBN: 978-1-4575-0541-6 64 pages $9.99 US
Available at Ingram, Amazon.com, Barnes & Noble and fine bookstores everywhere.
About Dog Ear Publishing, LLC
Dog Ear Publishing offers completely customized self-publishing services for independent authors. We provide cost-effective, fast, and highly profitable services to publish and distribute independently published books. Our book publishing and distribution services reach worldwide. Dog Ear authors retain all rights and complete creative control throughout the entire self-publishing process. Self-publishing services are available globally at http://www.dogearpublishing.net
and from our offices in Indianapolis.
Dog Ear Publishing – self-publishing that actually makes sense.
###