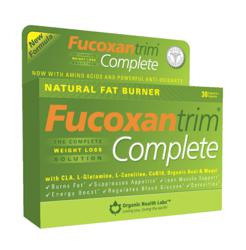 Both products in combination are designed to combat the yo-yo effect while allowing people to enjoy a typical diet. All of this is achieved through natural ingredients, not synthetic pharmaceutical reagents.
Boston, MA (PRWEB) January 02, 2012
In 1985 the average obesity rate in the US was nearly 10% by 2010 those numbers had skyrocketed to more than 27%. As the scientific debate rages on between carbohydrates or fats as the largest contributor to the obesity epidemic, findings indicate that when these compounds are blocked significant weight loss can be achieved.
This inspired Organic Health Labs to formulate a kit addressing the root causes of obesity that prevent the weight rebound often associated with weight loss products. Company President Nahir Luna, "while acknowledging society's addiction to fats and carbohydrates, we can change the rules when we ingest them by blocking their harmful effects." Fucoxantrim Complete is not a diuretic; it actually targets fat cells and shrinks them, among several other actions. These products combat the yo-yo effect while reducing the fear people have around high-carb foods.
Fucoxantrim Complete is a unique formula containing more fucoxanthin than any other product, and scientifically proven to burn fat in the abdomen. It also contains amino acids, l-carnitine and l-glutamine, a proven formula for producing lean muscle support and controlling appetite. This is in addition to the appetite suppressing power of pine nut oil.
Stimulating fat metabolism and neutralizing the free-radicals byproduct are facilitated with coenzyme Q10, acai, green tea and pomegranate. Organic fennel, artichokes and parsley are added to cleanse the liver and help to improve renal metabolism by stimulating the elimination of excess fluids.
Rounding out this formula are two important organic oils that help to stimulate a natural bowel movement that is key to weight loss–virgin coconut and flaxseed oil. Their function is to promote properly functioning thyroid and overall enzymatic health.
Emergency Carb & Fat Blocker contains organic white kidney bean extract that block carbohydrates; while chitosan and cassia nomame combine to block fat and expel it from the body.
Fucoxantrim Complete has been recommended by doctors, naturopaths, nutritionists and chiropractors for healthy and effective weight-loss.
Organic Health Labs is dedicated to manufacturing healthy products, educating the public and improving the community. All products meet our strict high quality standards; include certified organic ingredients with no artificial substances, are GMO free, complete and effective. "Loving You, Loving the Earth!" http://www.organichealthlabs.com
Sources: http://www.defeatdiabetes.org/Articles/obesity6030728.htm
###