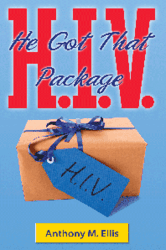 (The author's) first step is admitting to himself – and the prison workers – that he's a drug addict and needs to get clean.
Jackson, Miss. (PRWEB) January 05, 2012
Growing up without knowing his father left permanent psychological scars on Anthony Ellis, who spent more than 20 years in and out of prison before turning his life around. His mother's abusive boyfriend only adds to his problems. Tadpole, his nickname when he was young, tells his story in candid detail in this new book, starting with the last time he entered the Penal Farm, a prison near Memphis that's become a nightmarish home away from home because of the years he spent there. His latest incarceration, however, feels different, and he becomes determined to change his life.
In "He Got That Package: H.I.V.," Ellis' first step is admitting to himself – and the prison workers – that he's a drug addict and needs to get clean. He also realized he must tell them he is HIV positive. His openness about prison life – from inmate domination to gang issues, pen pal love affairs, homosexuality and unsafe facilities – provides a glimpse about what it's like to be penned up with men who hate themselves and others.
Ellis also candidly discusses life as an HIV-positive prisoner, being shunned and humiliated by those who aren't afflicted with "the package," the inmates' term for HIV or AIDS. Ultimately, with the help of a caring counselor, he learns that until he's honest with himself and others about his past and present, he will remain in a prison of his own making. The author's honesty about his situation and his hopes for the future will resonate with readers long after they finish the book.
Author Anthony Ellis was a street hustler, career criminal and drug addict before discovering his talent for writing. He grew up in Jackson, Miss., and enrolled at Jackson State University. An introduction to crack cocaine led to dropping out of college, homelessness and petty thievery. A prison counselor helped him turn his life around.
For information, please visit http://www.OneBrotherThreeSisters.com.
He Got That Package: H.I.V.
Anthony Ellis
Dog Ear Publishing
ISBN: 978-1-4575-0730-4 148 pages $11.99 US
Available at Ingram, Amazon.com, Barnes & Noble and fine bookstores everywhere.
About Dog Ear Publishing, LLC
Dog Ear Publishing offers completely customized self-publishing services for independent authors. We provide cost-effective, fast, and highly profitable services to publish and distribute independently published books. Our book publishing and distribution services reach worldwide. Dog Ear authors retain all rights and complete creative control throughout the entire self-publishing process. Self-publishing services are available globally at http://www.dogearpublishing.net
and from our offices in Indianapolis.
Dog Ear Publishing – self-publishing that actually makes sense.
###