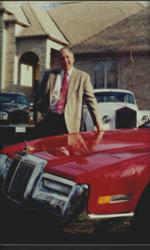 Normally a business owner would need a bank loan or save enough to finance such a project. Barter is a way in which business owners can use the value of their own products and services to fund the growth of their business.
Naples, FL (PRWEB) January 10, 2012
Founder of The Barter Trainer, Tom McDowell, reached 30 years of educating business owners worldwide on one of key the fundamentals of business – the value of barter.
McDowell learned many years ago to recognize the value of a good barter (trade) deal. The well-appointed office headquarters for The Barter Trainer is a testament that. When McDowell purchased the newly constructed office building in 1998, there was little more to it than the brick shell, cement floor and roof. All of the interior construction was still required.
Operating ATX, a Cleveland, Ohio based barter network founded in 1982, McDowell traded with member vendors to complete the building, offsetting much of the costly construction necessary, including:

granite, carpeting and tile floors
plumbing and electrical fixtures
heating and air conditioning units
locks, drywall and insulation
painting, wallpapering and mirrored walls
security and surveillance system
kitchen cabinets and appliances
phone system and cabling
window tinting and blinds
"Barter can be an ally to any small business owner looking to expand," shares McDowell.
"Normally a business owner needs a bank loan or to save enough to finance such a project. Barter is a way in which business owners can use the value of their own products and services to fund the growth of their business."
McDowell teaches people worldwide how to start local barter system networks, which are set up to help business owners stimulate sales, develop new clients, convert excess capacity or inventory into revenue and acquire what they need – all without the use of cash.The three-day program teaches proven sales strategies and business practices that help ensure profits in owning and operating a trade exchange business.
"Businesses join a trade exchange network to generate new sales to other members. The network serves as a clearinghouse to track trades. When a sale is made, trade dollars are deposited in the member's account, which can then be spent to purchase from any other participating business. For facilitating the transactions, the network is paid a transaction fee percentage, along with a small monthly administration fee."
The concept realizes no tax advantage or disadvantage. Barter income is reported to the IRS by the network through 1099B forms and is considered the same as cash income.
For those in the market for the ideal business opportunity that does well in good times and in bad, Tom McDowell's Training Program to Launch A Profitable Barter Exchange is a resource not to be missed.
About Tom McDowell
Tom McDowell's Barter Training provides the most comprehensive barter business opportunity training program to entrepreneurs starting their own B2B trade exchange network. McDowell has trained and educated exchange owners across the U.S. and Canada. In addition, the program has graduates in Bulgaria, England, Columbia, South Korea, New Zealand, Brazil and Australia. The 3-day training program is presented in person by Tom McDowell in Cleveland, OH and Naples, FL or via Internet webinar sessions. With all the tools, experience and resources to begin, McDowell's barter business training program provides entrepreneurs with the needed resources on everything from barter software to website development to consultation and direct marketing tools.
For additional information on program, contact Tom McDowell at 440.488.1683 or by email at tom(at)bartertrainer(dot)com. Visit http://www.bartertrainer.com for complete details.
###