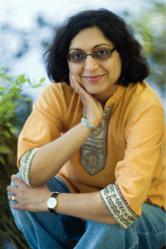 St. Louis, MO (PRWEB) January 03, 2012
The St. Louis County Library Foundation and Left Bank Books are pleased to present acclaimed Indian-American author Thrity Umrigar for a discussion and signing of her latest novel "The World We Found" on Wednesday, January 18, at 7:00 p.m. at Library Headquarters, 1640 S. Lindbergh Blvd.
The program is free and open to the public. Books will be available for purchase at the event from Left Bank Books.
The acclaimed author of "The Space Between Us" and "The Weight of Heaven" presents a breathtaking, skillfully wrought story of four women and the unbreakable ties they share. As university students in late 1970s Bombay, Armaiti, Laleh, Kavita, and Nishta were inseparable. Spirited and unconventional, they challenged authority and fought for a better world. But much has changed over the past thirty years. Following different paths, the quartet drifted apart, the day-to-day demands of work and family tempering the revolutionary fervor they once shared.
In the course of their journey to reconnect, the friends must confront the truths of their lives—acknowledge long-held regrets, face painful secrets and hidden desires, and reconcile their idealistic past and their compromised present. Exploring the enduring bonds of friendship and and offering an unforgettable portrait of modern India—a nation struggling to bridge economic, religious, gender, and generational divides—"The World We Found" is a dazzling masterwork from the remarkable Thrity Umrigar.
Thrity Umrigar is the author of four other novels: "The Space Between Us," "The Weight of Heaven," "If Today Be Sweet," and "Bombay Time," and the memoir "First Darling of the Morning." A journalist for 17 years, she is the winner of the Nieman Fellowship to Harvard University and a 2006 finalist for the PEN/Beyond Margins Award. An associate professor of English at Case Western Reserve University, Umrigar lives in Cleveland.
Program sites are accessible. Upon two weeks notice, accommodations will be made for persons with disabilities. Contact St. Louis County Library by phone 314-994-3300 or visit http://www.slcl.org.
###