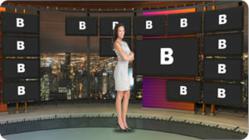 intensiKey™ 1.0 will revolutionize the way virtual set production is done.
Las Vegas, NV (PRWEB) January 01, 2012
intensiKey™ is the first chroma key software to integrate a true 3D environment, easy to use interface, and high quality virtual set content. With the introduction of intensiKey™ Virtual Set Pack Volume 1 intensiKey™ users have access to an additional 20 virtual sets available for purchase and download at http://www.intensikey.com either individually or as a package of 20 virtual sets.
These additional 20 virtual sets are actual 3D environments, not pictures or animations, meaning you can move the camera around the set and change perspective. intensiKey™ allows you to animate the camera's position over time keeping your chroma keyed talent in perspective automatically, creating beautiful camera moves and allowing total creativity over the framing of the shot.
intensiKey™ solves the problems that have plagued even savvy post production professionals; how to do a true 3D virtual set in post production without significant time, expense, and technical overhead. intensiKey™ is quick to set up and render a shot, usually taking only minutes to do both. Compared to ordinary chroma key software intensiKey™ comes preloaded with content that lets you choose how to frame the shoot putting you back in the director's seat.
intensiKey™ is designed to be easy to use, load your footage, add a B source, add a camera move, select your output format, and render. The footage is ready to go straight to the internet, in to your editing program of choice, or anywhere else common video file formats go.
Watch a demo of intensikey in action:
http://www.intensikey.com/Demovideo.htm
Download the intensiKey chroma key software to try it out for yourself:
http://www.intensiKey.com/Demo.htm
Or visit us on Facebook at:
http://www.facebook.com/pages/IntensiKey/119737864746260
About intensiKey LLC
Created with the sole passion of delivering cost effective 3D virtual set products to the Broadcast, Corporate, PEG, and enthusiast market, intensiKey focuses on developing software and content to complement each other.
intensiKey is privately owned and based in Las Vegas, Nevada. Please visit: http://www.intensikey.com
###