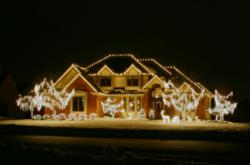 25% more of [1000Bulbs.com] customers chose LED over traditional incandescent Christmas lights
Garland, TX (PRWEB) January 06, 2012
Though customers know 1000Bulbs.com as a retailer of light bulbs and ballasts, they may also know the company for something unexpected: Christmas lights. This holiday season, in fact, Christmas lights were a major part of the company's marketing efforts, with LED Christmas light adoption specifically targeted to customers. The result of that effort was a tremendous increase in LED Christmas light adoption.
1000Bulbs.com noticed that, in comparison to 2010, 25% more of its customers chose LED over traditional incandescent Christmas lights. This is despite the fact that incandescent offerings on the website still outnumber LED offerings nearly 2 to 1. This upward trend in customer preference has prompted 1000Bulbs.com to revise LED offerings and apportion more company resources to educating consumers on LED lighting.
In recent years, 1000Bulbs.com CEO Kim Pedersen and his wife, Patsy, have traveled extensively to trade shows and lighting demonstrations to hand-pick the best Christmas lights available. Pedersen pays special attention to selecting LED Christmas lights because "All LEDs are not created equal," he says. The CEO only picks LED lights that perform best in demonstrations and that manufacturers test for longevity.
Mr. Pedersen also cites 1000Bulbs.com's emphasis on energy-saving lighting technologies as a reason for selling LED Christmas lights. Pedersen believes this fact has done more to dispel the initial trepidation of traditional Christmas light customers who are looking to save as much as possible against the backdrop of rising utility costs.
A recent poll on the 1000Bulbs.com Facebook page shows that while some customers are still leery of the product, those who have adopted the LED lights are overwhelmingly satisfied with them. Several popular YouTube videos this year have even featured LED lights in synchronized Christmas "light shows," showing the increasing adoption of the technology, even by enthusiasts.
The Facebook poll is only the beginning of the company's strategies to engage with customers on the topic of LED Christmas lights and LED lighting in general. The company will publish LED white papers on the 1000Bulbs.com site as well as several series of LED-related posts on the company's blog.
1000Bulbs.com believes the growth of LED Christmas light dominance is unavoidable, and plans to continue the search for quality lights and further educate customers on the benefits of LED. "In five years, the whole landscape of Christmas lighting could change, and we'll be at the forefront of that change," concludes Mr. Pedersen.
###