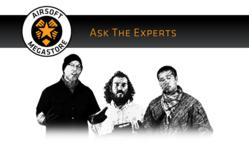 When you put your heart into something and give it time, you get payback.
Baldwin Park, CA (PRWEB) January 03, 2012
Airsoft Megastore has launched their AMS Featured Customer of the Day campaign, a program aimed at giving back to the Airsoft community. The Featured Customer of the Day is open to not only Airsoft Megastore customers, but can also be awarded to outstanding members of the U.S. Airsoft community. These are individuals who support the growth of the sport by actively engaging and advising other Airsofters in online communities such as Facebook, message boards and online forums.
The inaugural AMS Featured Customer of the Day was Ty Franz, a Los Angeles native who has shown genuine enthusiasm and engagement in the Airsoft community at large. Ty was rewarded with a tour of the Airsoft Megastore warehouse and a complete load out, including a JG UA-4 style AEG. Ty's mother echoed AMS's philosophy when she commented that "when you put your heart into something and give it time, you get payback."
The AMS Featured Customer of the Day is not limited to individuals in the local area. If there is a deserving recipient who is outside of Southern California, AMS will fly them in and spend some time with them talking about their passion for Airsoft and how they are participating in growing the sport of Airsoft. AMS is accepting email nominations (subject line "AMS Featured Customer") at marketing(at)airsoftmegastore(dot)com. A strong nominee includes those who are aligned through their actions and/or involvement in the Airsoft community with Airsoft Megastore's vision of "bringing airsoft to the masses."
About Airsoft Megastore
Airsoft Megastore shook up the industry when they first introduced their 125% price match guarantee and a standard 31-day product warranty on all new Airsoft guns and gear. Today Airsoft Megastore is North America's premier high-value, customer-centric supplier of Airsoft guns, ammo and accessories, including all the latest electric Airsoft guns, electric Airsoft rifles and Airsoft magazines.
Strategically based in Southern California, Airsoft Megastore keeps costs low with efficient importing from Airsoft manufacturers in Asia. The company is committed to bring Airsoft to the masses by making the sport more accessible, which means affordable Airsoft guns and gear as well as a supportive community that helps educate newer participants.
###