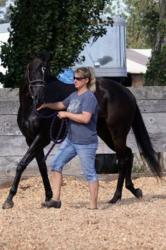 With the New Federal law, President Barrack Obama signed on December 5, 2011, on a Congressional spending bill that authorized the return of USDA inspections of horse meat and plants, clearing the way for horse slaughter house operations in the US.
Grants Pass, OR (PRWEB) January 04, 2012
Within the new congressional spending bill signed into law December 5, 2011 by President Obama was the authorization for USDA inspections of horse meat and plants, clearing the way for horse slaughter house operations in the United States, which had been inoperative since 2007.
Brenda (Bacon) Estes, is doing what she can to make sure horses who we are no longer wanted on the track are matched with families looking for a horse so she founded West Coast Race Horse Rescue.
Brenda, who was born in Grants Pass, Oregon and is a 1991 graduate of Hidden Valley High School has worked at race tracks in Oregon, Washington and California for almost a quarter century and now works with retired race horses through West Coast Race Horse Rescue, a facility in Grants Pass, Oregon that she co-founded with Clay Worden.
Established in 2011 as a 501-c3 nonprofit organization, West Coast Race Horse Rescue takes in race horses from Oregon, Washington & California and helps them adjust to their new life off the track. Co-founder Clay Worden brings the much needed skills and experience to West Coast Race Horse Rescue. Estes and Worden are working together to accomplish their goals at a new facility on Bacon's land just outside of Grants Pass. Brenda has relocated the West Coast Race Horse Rescue operations and most of the horses to her location on Ferry Road in Grants Pass, Oregon. Clay said "There is a lot of work that must be done before the facility is fully ready to house all the horses." Fencing, more stalls, larger storage area for the hay needs to be built. The work is steadily moving forward as weather and money permit.
Brenda, understands race horses are bred to be athletes and many have great blood lines. They love to run, but some are to slow to win, and could no longer stay at a track. These horses need new homes and new careers There are horse lovers looking for these great athletes. New careers were found as a Hunter, Jumpers, Eventing, Cross Country, Endurance, Dressage, Gaming, Jim canter, Barrel Racing, and Trail Riding. As athletes these were a great fit. With such a wide range of new careers, the challenge became getting the news out to horses lovers, so qualified owners could be found.
Brenda started exercising horses when she was 15 at Grants Pass Downs and in 1991 she was licensed as a apprentice jockey for a short time in both Washington and Oregon. In 1992, when Brenda was offered a job exercising race horses at Santa Anita and Hollywood Park she moved to Southern California, and worked for several trainers; D. Wayne Lucus, Randy Winnick, Jude Feld to name a few. She also worked as an assistant trainer to Kentucky Derby winner David C. Cross Jr.
She continues her work with race horses but with Increasing cost of fuel, feed, and the time needed for the race horses to make a smooth transition pushed Brenda to form West Coast Race Horse Rescue as a 501-c3 non-profit organization.
The ever increasing need to find a facility that understands the mindset of a (race) horse and how to help them make a smooth transition from race horse to family pet makes West Coast Race Horse Rescue a great transitional fit.
If anyone is looking for a great horse, take the time to look at a retired race horse. West Coast Race Horse Rescue has several, and will be bringing in more as space becomes available. The fee is nominal, and you will find a lot of joy owning one of these beautiful animals. Brenda makes every effort to find a good fit between the horse and the new owner. If they do not have the horse you are looking for, let them know what you are looking for they will try to find a great match. It is well worth the effort
"What many horse lovers do not understand is when a race horse first comes off the track they can be aggressive so for a smooth transition the race horse must be put in a stall and slowly learn to enjoy life off the track," says Estes. West Coast Race Horse Rescue is working hard to provide food and shelter and donations of any kind will supply those needs for the horses.
For more information about how to help West Coast Race Horse Rescue, please contact their office by email at wcracehorserescue(at)gmail(dot)com or visit them on Facebook at Brenda Estes. They hope to have their new web page up soon. You may call Brenda at 541-218-4275, please leave a message. Working with the horses, she is not always able to pick up her phone.
Estes is a member of: Jockey Club & Josephine Co. Race Horse Association, Licensed trainer: Oregon & California
# # #