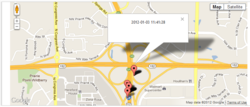 Kansas City, MO (PRWEB) January 05, 2012
For the past two years, JimmyGood Technology has offered cell phone users the convenience and peace of mind of backing up text messages, viewing historical texts, browser history, and call logs via an online portal, and sharing texts with a unique social media interface, all via the CiiAll app. Now, the number one text message management suite offers even greater value with the addition of industry-leading GPS features.
For the first time, cell phone owners can now pinpoint individual or multiple devices via a convenient map-enabled view. This functionality is perfect for parents wishing to protect the children on their family cell phone plan, and for public and private organizations who want greater visibility into their employees' movements. For example, a utility provider could monitor how long it would take a mobile staff member to assist a customer across town, or a police department could see officers' response times to emergency calls.
Users can analyze historical data to optimize location-centric business processes, and could include it in e-Discovery or any other legal/compliance situation if needed. In addition, certain user actions trigger text-based and e-mail notifications of the CiiAll license holder – for example if a phone moves beyond a certain location. In addition to increasing accountability, this feature can also help recover a missing device.
For some CiiAll users, it isn't appropriate or necessary for cell phones to plot a new location each time the handset moves. That's why CiiAll is giving plan owners the flexibility to set parameters on the GPS features. For example, a parent may not need to be alerted if a teenager with a learner's permit drives to school, stays all day and then drives home. However, if the youngster went to school and then cut classes to hang out with friends off site, CiiAll would alert the parent.
Any CiiAll license owner can define how far each of their mobile devices must move before triggering the transmission of GPS coordinates to the online CiiAll portal. When combined with the ability to monitor text messages online, these location-driven features set CiiAll apart as the leading mobile accountability app.
Plan owners can also customize how often their handsets transmit location-driven data to CiiAll – everything from real-time to once an hour to once a day, to name just three options. In addition to tailoring the quantity of GPS data to fit each user's needs, this can also help extend battery life.
These revolutionary new GPS features are available to current users at no extra cost, via an update notification sent by the Android Market. Or, CiiAll license holders can update the app by logging into CiiAll, clicking on "Devices," and clicking "Send Link." This will send the new build to each device via text message for immediate download.
New signups at ciall.com and via the Android Market will have this functionality at their fingertips as soon as they install CiiAll on their handset/s. JimmyGood Technology plans to continue adding GPS features to new releases, all of which will be available via quick, convenient and free remote updates for existing and new CiiAll users.
About JimmyGood Technology
JimmyGood Technology was founded in 2007 by three Kansas City entrepreneurs with a focus on changing the world via cutting-edge technology. JimmyGood has interests in social aggregation, social networking, location-based services, and an emphasis on bringing consumers and businesses closer using innovation. JimmyGood Technology was founded on making the complex simple and a belief that turning good ideas into reality can change the world. Learn more at http://www.jimmygood.com
###