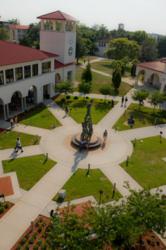 Saint Leo, Florida (PRWEB) January 09, 2012
Saint Leo University, one of the top universities in Florida, received reaffirmation of its accreditation from the Southern Association of Colleges and Schools Commission on Colleges (SACSCOC) for the next 10 years. The announcement was made December 6, during the SACSCOC annual meeting in Orlando.
SACSCOC is the regional accrediting body for public and private universities and colleges in 11 southern states. In the world of higher education, the standards set by the nation's regional accrediting authorities are considered the most rigorous of all oversight agencies. Regional accrediting bodies provide teams of experts from peer institutions to examine in depth the quality and effectiveness of academic programs, faculty and services, as well as the financial soundness of institutions. This oversight is intended to improve continually the educational quality of institutions throughout the region and to serve the needs of students and society as a whole.
Saint Leo University President Arthur F. Kirk, Jr., congratulated faculty, staff and students on the shared accomplishment.
"We have worked as a community, guided by our Catholic Benedictine values, to provide our students with an effective model for life and leadership in a challenging world," Dr. Kirk said. "The reaffirmation from SACSCOC validates our efforts. I am grateful to everyone for their good work and shared sense of responsibility to ensure a quality education consistent with our mission. Saint Leo University is an institution of which we are all proud."
About Saint Leo University
Saint Leo ranks as one of the top universities in the South, according to U.S. News & World Report's "America's Best Colleges" list. Located 30 miles north of Tampa, Saint Leo educates more than 1,900 students. Total enrollment across its campus, regional education centers and online programs exceeds 15,000. Among the oldest Catholic universities in Florida, Saint Leo is one of the nation's 10 leading providers of higher education to the U.S. military, and is a nationally recognized leader in online education.
The Southern Association of Colleges and Schools Commission on Colleges can be contacted at 1866 Southern Lane, Decatur, GA 30003-4097, or 404.679.4500.
###