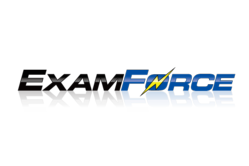 Sybex books are revered for their depth and scope in covering subjects that necessarily require a great amount of detail
Largo, Florida (PRWEB) January 16, 2012
ExamForce, the first company in IT training to build a truly adaptive engine for its exam preparation software, continues to raise the bar by building relationships with the industry's premier publishers. Adding content from the extensive library of Sybex technical certification books and study guides stacks the deck in their favor. IT professionals need highly detailed and accurate information and explanations when training and preparing for certifications.
"Sybex books are revered for their depth and scope in covering subjects that necessarily require a great amount of detail, something that is imperative in our industry." said ExamForce president Kevin Forcier. "Our CramMaster line of exam preparation is greatly enhanced by this relationship and we look forward to a long and mutually beneficial experience with Sybex."
ExamForce has already incorporated Sybex material in several products and has more in development. The list includes self-study products for Microsoft, Oracle, CompTIA, and VMWare as well as critical security certifications like Certified Ethical Hacker (CEH) from EC Council and Certified Information Systems Auditor (CISA) from ISACA.
About Sybex®
Sybex has been a leading publisher for the global information technology community for over 30 years. Known for its high-quality publications written by respected authors who combine practical experience with a passion for teaching, Sybex publishes in five major subject areas—3D graphics, CAD/CAM, internet marketing, IT administration, and certification. Sybex has publishing partnerships with prominent companies and organizations such as Autodesk, CompTIA, CWNP, and Guidance. For more information, visit sybex.com. Sybex is an imprint of Wiley.
About ExamForce
A division of LearnForce Partners LLC, ExamForce was founded in 1999 to assist individuals and organizations with preparing for and passing IT certification exams. Since its inception, ExamForce's industry recognized materials have assisted countless people in growing their knowledge and advancing their careers. ExamForce develops and sells training and practice test software, audio preparation programs, study guides and flash cards for the Information Technology, Financial and Trade marketplaces.
###