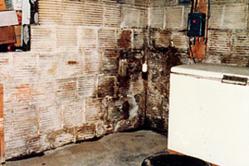 Danbury, CT (PRWEB) January 01, 2012
E-Z Breathe is the newest product available from Dry-X Waterproofing. The E-Z Breathe unit provides a highly effective solution for mold, mildew, radon, and wet basements.
"Our work on mold/bacteria contaminated basements has increased over the past year" states Joshua Neto, owner of Dry-X Waterproofing. "The recent extreme weather and flooding has definitely been a contributing factor. The E·Z Breathe systems has been highly effective, over some extremely contaminated areas, to reduce fungus and bacteria growth. The system effectively removes contaminated air from the building, reducing the amount of airborne contaminants and improving indoor air quality."
The E·Z Breathe process supplied and installed by Dry-X Waterproofing helps to prevent and decrease mold and mildew by not allowing the moist air to condense onto cool surfaces or become stagnant. Gases and pollutants that have built up in the home are expelled and replaced with fresh air. Tests conducted in homes with E·Z Breathe installed showed an average of 50% reduction in total mold spores for the entire structure, and in specific rooms, and up to 99.5% reduction in the spores. These homes were tested prior, and then again, 45 - 110 days after installation of the E·Z Breathe, clearly demonstrating the system's effectiveness in reducing harmful mold spores and pollutants.
Contact Dry-X Basement Waterproofing for a FREE Inspection and Estimate.
###