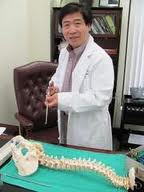 Early diagnosis is essential to relieving pinched nerve pain and preventing permanent nerve damage, nerve death and other complications
Edison, NJ (PRWEB) January 11, 2012
Atlantic Spinal Care, a national leader in endoscopic spine surgery, announces that they have created new WebPages to educate individuals that suffer from a pinched nerve in the back or neck. Shooting pain, numbness and burning are among the most common symptoms of a pinched nerve—a condition that occurs when a nerve, or set of nerves, becomes compressed, constructed or stretched by nearby bones, muscles or other surrounding tissue. Although pinched nerves can develop anywhere in the body, they most frequently occur in the neck and lower back. Often, pain is minor and temporary. But it can also be severe and, if not properly treated, lead to permanent damage, warns Kaixuan Liu, MD, PhD, chief surgeon at Atlantic Spinal Care in Edison, N.J.
"Early diagnosis is essential to relieving pinched nerve pain and preventing permanent nerve damage, nerve death and other complications," adds Dr. Liu.
What causes a pinched nerve?
Spinal conditions like a herniated disc can lead to nerve pressure and pinched nerves, as can osteoarthritis, degenerative disc disease, bone spurs, joint disease, trauma caused by an accident or injury, repetitive motions performed at work or in sports, poor posture and obesity.
A pinched nerve in the neck (cervical nerve) often leads to shoulder pain, numbness and weakness, as well as pain that radiates down one or both arms and into the thumb, middle finger or outside of the hand.
A pinched nerve in the back (lumbar nerve) often results in sciatica, or pain that radiates down the back of one or both legs, as well as pain or numbness on the top or outside of the foot.
Left untreated for an extended period, symptoms can not just worsen, but grow to include muscle atrophy, loss of muscle mass and loss of reflexes and motor function. "Anyone experiencing any of these symptoms should seek medical attention immediately," adds Dr. Liu.
How is a pinched nerve treated?
Non-surgical treatments are generally the first step, including rest, ice therapy and avoiding movements that cause symptoms to worsen. Non-prescription anti-inflammatory drugs like ibuprofen can also provide relief and, in more serious cases, prescription medications. Physical therapy is also sometimes recommended to stretch and strengthen muscles that can help relieve nerve pressure.
When does pinched nerve surgery become necessary?
If six to eight weeks of non-surgical treatments don't provide relief, pinched nerve surgery may be needed. The location of the pinched nerve plays a major role in the type of surgery performed, as does the cause. For example, bone spurs or part of a herniated disk may need to be removed, or a ligament may need to be severed to allow a nerve to pass. The goal of all forms of pinched nerve surgery, however, is to relieve pressure and give the nerve room to function. Although some forms need to be performed by traditional, open surgery, the majority can be performed endoscopically using high-tech, minimally-invasive surgical equipment and just a few, tiny incisions. "The options today for patients needing pinched nerve surgery are really revolutionary," Dr. Liu said. "Most are same-day procedures that allow patients to recover quickly and get back to normal daily life without pain."
Bio: About Dr. Liu: Kaixuan Liu, M.D., Ph.D., is a renowned endoscopic spine surgeon and founder of Atlantic Spinal Care, LLC, in Edison, New Jersey (http://www.atlanticspinalcare.com). Dr. Liu is certified by The American Board of Pain Medicine and The American Board of Anesthesiology, and is a member of The International Society for Advancement of Spine Surgery, The American Society of Interventional Pain Physicians (ASIPP), The American Academy of Pain Medicine (AAPM), The International Intradiscal Therapy Society (IITS), and The American Society of Anesthesiologists (ASA). He also serves as an international surgeon for The Spinal Foundations in England.
###