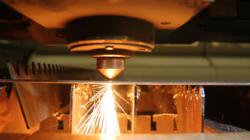 We have the process down to where it allows us to utilize most of the sheet so there is less waste
Waukesha, WI (PRWEB) January 05, 2012
On December 15 2011, a battery manufacturer that wishes to remain anonymous needed to have some aluminum plate cut for its windmill energy storage unit. It had samples of the metal parts cut with Rentapen's laser and some with a water jet.
The main differences between water jet cutting and laser cutting is in the thickness of the material, accuracy of the cut, heat affected zones and machine cleaning.
Water jet cutting machines can cut materials such as: stone, ceramics, and materials of a greater thickness, sometimes up to 10 inches.
One benefit of a water jet are sheets of material can be stacked onto each other, allowing the water jet to cut multiple sheets of material at one time. However, the cut tends to taper out as it goes deeper into the metal. So instead of a close-to-perfectly vertical cut through the metal that is provided by a good laser cut, the water jet sprays out a bit causing a slight taper to the edge of the thicker cut parts.
This was the difference that really made the decision for the Battery Manufacturer. "They needed to fixture the part and it is easier to hold a straight vertical edge than one that is tapered," said Susan Straley, President of Rentapen.
Rentapen Inc., located in Waukesha, WI purchased a 4000 watt CO2 Mitsubishi Laser Cutter, which started their Just-In-Time Laser Cutting Services™. The laser can cut up to 1 inch mild steel, .5 inch stainless steel, and .5 inch aluminum.
"Another problem with the water jet is it puts pressure on the part as it cuts and on thinner metal that means the edges get warped or bent over," said Straley. The laser cuts thin metal without warping or bending the edges.
Laser cutting makes a heat affected zone where the edge of the cut metal gets hot. The water jet does not leave a heat affected zone. However, Rentapen's Just-In-Time Laser Cutting Services™ tries to eliminate the number of pierce holes so there is a less amount of heat.
"We have the process down to where it allows us to utilize most of the sheet so there is less waste," said Jeremy Dickinson, Manufacturing Manager of Rentapen Inc.
Rentapen's Just-In-Time Laser Cutting services are cleaner than water jet cutting, because the cutting waste is mostly just dust.
Water jet cutting makes a louder noise and the machining cleaning requirements are very high. This is a result from the large amounts of cutting waste, which is water mixed with sand.
Rentapen also has a smaller laser that is used for cutting thinner sheets of metal and other material for instance paper, plastic and wood. It can be used for etching and engraving. Rentapen also cuts thousands of metal shims for the machine tool industry each year.
###