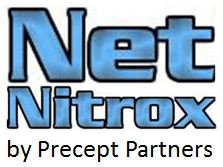 Buchanan, Michigan (PRWEB) January 02, 2012
The award winning website developers at Precept Partners today announced a new "all inclusive" package of NetNitrox strategy consulting, website design and online marketing services. "By consolidating all of the critical functions we've been able to significantly lower the cost of the overall process, with improved results", said Stephen Antisdel, the company's manager.
Typical features implemented in the website include in the NetNitrox package are demonstrated at the company's own http://www.NetNitrox.com website. These include dynamic page and image changes, dedicated contact forms, links to social media including Google+, LinkedIn, Twitter, Facebook and access to the company's blog.
Antisdel goes on to explain, "Secure e-commerce and many other functions are available; we analyze each client's needs, target market and other variables, to insure we're implementing the more appropriate and cost-effective technology solution in every case.
The NetNitrox 2012 services package is comprehensive in scope, covering the essential steps for building an effective website, along with online marketing to reach the target market. These include:
+ Analysis of the client's existing website or market space;
+ Business strategy review;
+ Custom website design;
+ Website build, testing, launch;
+ Site submission to search engines for indexing;
+ Launch press release with online distribution;
+ Google Analytics package;
+ SEM (keyword) campaign creation & management;
+ $1,000 of SEM (keyword marketing) budget to be allocated in the first year;
+ All site hosting fees for the first year
Antisdel concludes, "For less than $6K, or $499 a month, a company can now update their web presence with a new website, based on a coherent online strategy that includes targeted, online marketing at a known cost." Precept acknowledges the total number of "Sell More/Spend Less" packages will be limited; interested parties should contact the company for details on availability and timing.
NetNitrox services are a development of Precept Partners, LLC, whose principals have a long history of experience online. They were co-founders of FurnitureFind.com in 1996, one of the first home furnishings retailers to go online and build a successful business based on proprietary technologies, processes and know-how. In 2003, FurnitureFind.com was sold to a venture capital firm and Precept Partners was launched to serve clients in other industries with web strategy analysis, website design, and online marketing services. Precept's real-world business building experience and history of online success gives the company a unique, business centric perspective and broad technical capabilities.
About Precept Partners
Precept Partners develop and manage the design, implementation and marketing of industry leading websites serving clients in retail, manufacturing, professional services and non-profit sectors. Client awards include the Inc. 500, Internet Retailer 500, The Webby, and the Top 100 Best Retail Websites Award, with recognition in The Wall Street Journal, BusinessWeek, Inc. Magazine, NPR, Internet Retailer, and other national media outlets. For more information,
visit http://www.NetNitrox.com.
###