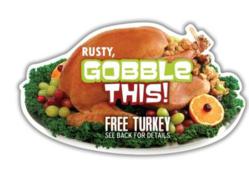 75% of consumers get more email than they can read, but they still enjoy going to the mailbox.
Tampa, Florida (PRWEB) January 03, 2012
ThinkShapes Mail in Tampa announced this week that it has completed its expansion at its Tampa plant to accommodate the growing popularity of its shaped mail and die cut trade show handouts.
Karen O'Brien, co-owner of ThinkShapes Mail, which creates, prints, and manages the mailing of direct mail campaigns and trade show handouts of literally every shape and size, says their company now has tripled their digital print capacity, a necessity to handle the increased interest in end-to-end shaped mail marketing campaigns.
"All our business activity points to an increase in shaped direct mail as part of the marketing mix for businesses in 2012. We saw an increase in 2011. This new press and some key additions to our team over the last several months will allow us to meet that need," O'Brien says.
Direct mail has taken a back seat to email in recent years, but its effectiveness has remained. Shaped direct mail grabs attention and as such has yielded marketers returns that are at least three times higher than normal response rate. That has advertising agencies, graphic designers, and their clients taking notice.
"Shaped mail is a creative, fresh idea that can be personalized, it can target and reach customers with specific messages, and today it can incorporate QR codes and coupons that can drive both ecommerce and traditional retail traffic," says ThinkShapes co-owner Jim O'Brien.
A recent Consumer Channel Preference Study conducted by Epsilon Targeting found that 75 percent of consumers get more email than they can read, and 60 percent still enjoy the experience of checking their physical mailbox. Half of consumers surveyed actually prefer direct mail, which has major marketers taking note, particularly since mailboxes are less full than they used to be.
If that's not enough to have marketers shifting their budget dollars toward direct mail, shaped mail costs will hold at .46 per piece (34 per piece for non profits) even as first class postage goes up.
Major consumer retailers like McDonalds have successful used shaped mail as have sports franchises like the Tampa Bay Lightning, banks and credit unions, utilities, and major manufacturers of products ranging from cars to furniture.
Jim O'Brien says they work with ad agencies and marketing firms and manage direct mail campaigns for corporate and nonprofit clients across North America. He says while they can handle a million pieces, they work with clients with much smaller mailing requirements too.
"Our new equipment allows us to meet the needs of a broader range of customers, plus creatively, the sky is the limit," O'Brien says.
For more information on shaped mail die cut printing, or shaped tradeshow handouts, visit http://www.thinkshapesmail.com, or call 800 889 4406.
About ThinkShapes Mail
This privately owned business serves clients throughout North America with the most affordable shaped direct mail marketing services available. Owners Jim and Karen O'Brien are direct marketing experts who work with clients or their advertising agencies to develop creative marketing that gets noticed and generates results. For samples of projects, photos, logos, or other information, contact Connie Holubar, OutreachPR, 903 880 8217, or call Karen O'Brien at ThinkShapes Mail at 813 885 2225.
###