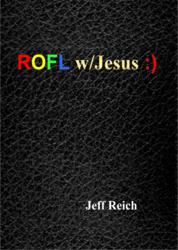 "Jeff Reich teaches that Jesus calls us to be disciples and partners with him in our personal ministry in the world, no matter our age or where our lives take us." Rev. Ron L. Lee
Orlando, FL (PRWEB) January 11, 2012
DC Press LLC has just released the first volume in an anticipated series of Christian fiction for teens. Entitled "ROFL w/Jesus :)" (that is "Rolling on the Floor Laughing with Jesus" for the non-texters among us), the novel is a first book by story teller and youth leader, Jeff Reich (Altamonte Springs, FL). With a strong entry into the book market (good pre-publication sales on Amazon.com and into bricks-and-mortar bookstores), the early reviews have been outstanding.
Following the adventures and misadventures of sophomores, Parker Williams and Emily Thompson – teens who attend competing Florida high schools, share mutual friends and meet at the weekly gathering of their church youth group. They face many of the standard challenges that all kids have to deal with: gaining success in school, standing out in sports, overcoming peer pressure, and dealing with early romantic feelings.
But, included in "ROFL w/Jesus :)" are events that occur that take these teens by surprise: siblings who struggle in college and are sent home to face the music, friends with drug and alcohol issues, an innocent trip to the beach that is threatened by an attempted rape, and what can happen when a driver texts while driving. Mark Zuckerberg of Facebook fame even makes an appearance. And intertwined between the pages of each chapter is the presence of Jesus. Both Parker and Emily strive to live lives that bring honor to Jesus.
Reich has written a series of stories that strongly show that he speaks the language of teens and understands what makes them tick. To strengthen the book, the author has created a "leaders guide" that is provided at no cost on the website to those who want to build discussions around the situations described.
As one reviewer wrote: "Jeff's heart has always pumped for youth and youth ministry....He has poured countless hours into listening to their struggles and teaching Jesus to their contexts. The powerful fruit of these conversations, deep listening, and ongoing learning is built into the pages....What follows will have you rolling on the floor laughing, and at times, weeping with the very tangible ways God works through the lives of these two teens (Parker & Emily). And, whether you happen to be a teenager or not, don't be too surprised if you find yourself on these pages as well. 'ROFL w/Jesus :)' is about the real struggles of the human condition, in light of the very real and powerful truth of God's GRACE known in Jesus. In light of God's grace, always discover this one truth: there is a place in God for all of us." (Rev. Dr. Nathan Senson-Reinhold)
If you are looking for a great addition to your live talk show guests -- or if a tremendous interview for a news article -- Jeff Reich is a perfect candidate. With society as confused and frenetic as it is, it's wonderful to know that someone like Jeff is out there talking with and working with teens. Your audiences could get a real blessing from hearing from Jeff Reich. For futher information on Jeff and/or "ROFL w/Jesus :)," or to set up an interview, please contact the publisher.
ROFL w/Jesus :)
DC Press LLC - 2011
ISBN: 978-1-932021-03-5
218 pages, soft cover
$16.95
http://www.DCPressBooks.com / http://www.ROFLwJesus.com
###