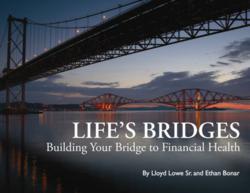 Reading Life's Bridges is an essential first step to a sound financial future.

C. Richard Weylman CSP, CPAE, Previous head of sales and marketing for the Robb Report
Dallas, Texas (PRWEB) January 12, 2012
Karen Hughes, president of the Vogel Alcove which has been chosen to receive 100 percent of all proceeds from the new book "Life's Bridges: Building Your Bridge to Financial Wealth." by financial experts Lloyd Lowe Sr. and Ethan Bonar of LD Lowe Sr. Wealth Advisory (Brown Books Publishing Group). was presented with their first check of just over $9,000 this past monday at the "Lunch and Learn" event held at LD Lowe Sr. Wealth Advisory.
Founded in 1987 by the late Thelma Vogel and the late Doris Budner, the Vogel Alcove, a non-religious nonprofit, offers homeless parents a safe place to leave their children while they work to rebuild their lives.
The Vogel Alcove remains the primary provider of exemplary childcare, developmental and social services in the greater Dallas area. The mission of the Vogel Alcove is to provide the youngest children of homeless families with the foundation for success. It is their vision that every child in our community has a home, a self-sufficient family and a pathway to success in school.
To honor the legacy of Thelma Vogel and Doris Budner, Lowe and Bonar are pleased to announce they will be donating all proceeds from Life's Bridges to the Vogel Alcove, an exceptional organization spearheaded by President Karen Hughes. Helping homeless families with young children secure a better life is what giving is all about. Copies of their book will be donated as well.
"Life's Bridges" provides a fresh approach to ensuring financial security for life. "Like any journey, the journey to your financial future begins with a single step," says Lowe.
To help people afraid of taking that first step, Lowe and Bonar provide the blueprint to get readers started, then guide them through a series of easy-to-understand steps to help them reach their goals.
Concise, informative and well-written, Lowe and Bonar bring common sense and practical advice to a complex subject. In straightforward terms, they tell readers what they should be looking for to strengthen their financial planning.
Lowe and Bonar provide readers with the tools to map out a course of action to build a personal bridge for the lifestyle they seek. They advise readers to ask themselves a series of questions: Where do you want your bridge to take you? Who are you building the bridge for? When will you need it? How will you go about building it? The responses to these questions are the foundation for building an action plan that will lead to short-term results and long-term financial wealth without compromise.
It's never too late to get started, so what are you waiting for?
To learn more visit: http://www.LDLowePlan.com or http://www.VogelAlcove.org
###