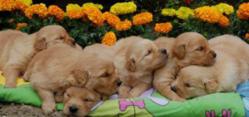 Maggie was so big she was ready to pop, and now we have Christmas puppies!
Moorpark, California (PRWEB) January 01, 2012
Golden Meadows Retrievers has a litter of 6 Golden Retriever boys born on Christmas Day!
After 24 hours of intense labor Maggie McLain, one of Golden Meadows Retriever's Females, gave birth to six big bouncing boys. This is Maggie's first litter and The Hokes are very pleased with how well she did in the whelping box.
This litter of Golden Retriever Puppies was well expected and it was a true surprise to the family when the pups began to arrive Christmas morning as the family sat down to a delightful Christmas breakfast. It was a beautiful sunny California winter day and the birthing was all text book and easy.
"Maggie was so big she was ready to pop, and now we have Christmas puppies!" –Barbara Hoke of Golden Meadows.
These Golden Retriever babies were a delight to the Hoke's visiting grandchildren and family. The pups are all reported healthy and eating fine and Maggie is being the most caring first time mother a Golden Retriever can be.
Golden Meadows is a high end breeding kennel that specializes in trained dogs. They breed sound and healthy golden retrievers many of which are trained and then go into therapy or service work. Their program is over 20 years old and they provide the best in care for their Golden Retriever puppies. Located in Beautiful back hills of Moorpark California, Golden Meadows shows off their gorgeous dogs at AKC and IABCA conformation shows. All of their dogs come from excellent pedigrees and have great temperaments. They even have the highly desired English Cream Golden Retrievers.
Being active members in their community you may bump into a Golden Meadows' Golden Retriever in training while out and about in the Ventura county area or at the pet friendly Simi Valley Town Center Mall.
###