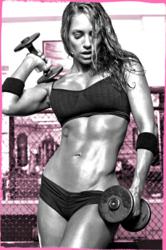 Grand Master & Creator of the Innovative JNL Fusion Training Method Jennifer Nicole Lee Names Allison Breen the JNL Fusion Master Trainer of the Year Due to Her Commitment to the Method
Miami, FL (PRWEB) January 01, 2012
Creator of the JNL Fusion Method, Grand Master Jennifer Nicole Lee has officially announced that she will be presenting Master Trainer Allison Breen with the [ JNL Fusion Master Trainer of the Year Award. The presentation will take place at the 2nd Annual JNL Fusion World Conference held at a private resort on Miami Beach Florida. In her press interview, JNL stated "One woman who has marveled us all is JNL Fusion Master Trainer AlliB, who lost over 80 lbs. on the JNL Fusion method. She was relentless on her achieving her weight loss success story, and she also wowed us when she filmed for a complete 8 weeks, working out to the JNL Fusion exercise DVDs every day."
The AlliB was also the first Master Trainer to certify another Personal Trainer in the JNL Fusion method, which was history in the making. She also held numerous JNL Fusion Seminars, promoting this life changing training method.
With this being said, JNL proud to announce that AlliB is the JNL Fusion Master Trainer of the Year, and will be awarded at the World Conference.
Jennifer Nicole Lee is paying it forward in the fitness industry for decades to come by creating new job opportunities by creating this highly sought after method. JNL is also increasing the quality of personal trainer's resumes, by providing top notch training, educational seminars, and motivational workshops based on her method. She states "I'm proud to leave a legacy in the fitness industry, one where a fitness enthusiast and a professional personal trainer can add value to their resume, expand their own brands, set themselves apart from other personal trainers, and also give much more confidence to those who may need it. I know firsthand that this method does work, and the world is taking notice. We haven't even launched the official exercise DVD's yet, and there is such a huge demand for them. Im humbled and honored to have made such big waves in the wellness industry on a whole, and then of course in countless lives of trainers and those who have a sincere passion for the JNL Fusion Method.
For more info, visit http://www.JenniferNIcoleLee.com and http://www.JNLFusion.net
http://www.youtube.com/watch?v=fnRP1oR0JIU&feature=youtu.be
###