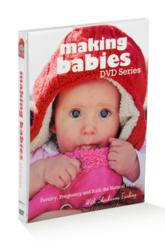 Outstanding recipes! Simply beautiful! Love this book!
Nashville Tennessee (PRWEB) January 17, 2012
While researching material for the Making Babies Series, Bulk Herb Store (BHS) learned over 98% of healthy women under a trained midwife's care can safely have a natural home birth. Years ago the induction rate was about 8%. Today it is over 80%, not because of emergencies, but because of convenience. Induction provides an unnatural medication which prevents the natural hormonal process from giving the mother an easier labor and most importantly prevents the natural bonding a mother and newborn experience during the first few moments of life. This can never be replaced. A CNN report showed the U.S. with all of its advanced medical care has the second highest infant mortality rate among developed countries
Without drugs, the complications and need for a C-section is dramatically reduced. Less than 2% of healthy women need a C-section. Women are not adequately told their options! Women need to know their options. They need to be informed to have the ultimate natural birth experience.
Today OB/GYN's are happy with scheduling C-sections. No longer do they have to be at the hospital through a 10-12 hour labor. In NY more C-sections are scheduled by the doctors at 4:00 p.m. and then again at 10:00 p.m. so they can perform this major surgery in less than a half hour, and be home in time for dinner or the late night news.
Why is it that so many healthy, low risk women are receiving C-sections? Answers can include labor intervention drugs, not providing mothers with informed choices, a relaxed attitude about C-section surgery (major surgery), fear of malpractice claims, insurance regulations, and time efficiency. Tragically most OB/GYNs have never witnessed a natural birth.
Having a baby is a miracle! It is a spectacular event when the sperm and egg meet and make a life inside of a woman. A tiny living heartbeat. A tiny living soul. A baby that is part of every mother, living inside of her body. A mother is its very life. A mother nourishes her baby and helps it grow. She introduces it to food, sound, movement, feelings, and so much more. She is a Mother!
Bulk Herb Store, a family owned business by James and Shoshanna Easling was established in 1998 and is located in Lobelville TN. They recently expanded their business by starting a publishing division for the publication of the Making Babies Series adding to their product line of Herbs, Herbal Mixes, Water Filters, Videos, Books, and Heirloom Seeds.
Their site offers herbal solutions for conditions from Acne to Yeast Infections and everything in between for both the new herb users to the experienced herbalist. The more read from their website, the more confident a person will be with herbs and natural remedies.
The Making Bay Series follows Shoshanna from shortly after the birth of her first child through the natural home delivery of her second child. The events are chronicled through her book and video series and is packed full of interviews with natural and medical specialists including, Dr. Jay Gordon, MD, FAAP; Nancy A. Armetta, MD; Hohan C. Dinklemann and DC; Elaine M. Wakefield, CNM; prominent healthcare professionals.
The Making Babies series mixes modern advances with grandma's wisdom taking readers back in time to when 95% of babies were delivered in the comforts of home (1900). Since 1955 only about 1% of births are at home and that number remains unchanged today. In many countries midwives account for 70%-80% of all births resulting in a higher survival rate for mother and baby. Know the facts. The birth experience should be selected by the mother not the doctor.
The series is a natural approach to pregnancy, birth, using herbs, diet and exercise. It is designed to show the simplicity, beauty, and pure fun a natural pregnancy and birth can be. It is an alternative to having a baby in a hospital setting.
The 480 page Book is presented in a fun, informational, artistic, and colorful manner. Readers will learn many ways to stay active and healthy as a mother builds her baby.
The DVDs are over seven hours of information covering deliciously healthy recipes, wonderful gluten-free recipes, grandma's remedies, herbal concoctions, and need-to-know facts, and is packed with research about fertility, conception, morning sickness, pregnancy, birth, nursing, postpartum issues, losing weight, and more!
# # #