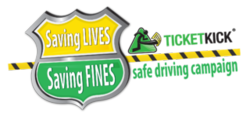 Although we provide a service to help those who feel they don't deserve their traffic ticket, we certainly don't endorse reckless driving.
San Diego, CA (PRWEB) January 30, 2012
TicketKick® is California's leading self-help document service, assisting drivers with traffic tickets throughout the state through a trial by written declaration. In an effort to promote safe driving, TicketKick announced their plans to promote a statewide campaign against unsafe driving. "Saving Lives, Saving Fines, a TicketKick Safe Driving Campaign" aims to help educate drivers of their rights and bring awareness to the dangers on the road.
TicketKick says that over 16 million traffic tickets are issued in California each year. Some of the most expensive tickets are red light tickets and speeding tickets. "Many times, traffic tickets are unwarranted, but most of the time, they can be avoided by practicing safer driving," said Greg Muender, founder and president of TicketKick. "There's a reason why cops are out there issuing tickets, and it's not just for revenue generation. We need them out there to make sure everyone's driving safely," he added.
TicketKick takes a supportive stance of both the laws in place to ensure safety, and of driver's rights. "Although we provide a service to help those who feel they don't deserve their traffic ticket, we certainly don't endorse reckless driving," said Greg.
According to the California Highway Patrol's Annual Report of Fatal and Injury Motor Vehicle Traffic Collisions, in 2009, California had a total of 426,228 traffic collisions, 2,805 of which were fatal, and 163,524 of which caused injury. Their report noted that speed was indicated as the Primary Collision Factor in 29.0% of the fatal and injury collisions.
TicketKick's main concern is helping drivers understand how the laws affect them on the road, and they plan to discuss both the costs associated with receiving a traffic ticket and the physical, emotional, and financial costs of being involved in a collision. TicketKick's "Saving Lives, Saving Fines" campaign will include a series of articles, promotional videos, and free safe driving seminars for teenage drivers about potential dangers on the road.
Their message includes three main components: "Be aware. Know your rights. Be proactive."
"We've become famous because we help people with contesting traffic tickets, and now we're going to use the marketing power we've created with our loyal followers to promote safer driving. That's the most important thing, and we feel it's our responsibility to do just that," Muender added.
About TicketKick®
TicketKick is a registered and bonded legal document assistant in California, providing self help services in assisting drivers to beat traffic tickets, using a similar service model to companies such as LegalZoom and E*Trade. TicketKick works with traffic attorneys and law school graduates who work together to complete legal documents in a ministerial manner at the specific direction of the customer with the goal of helping the customer obtain a ticket dismissal. About 70% of TicketKick's customers receive a dismissal of their ticket. TicketKick offers an industry exclusive 100% money back guarantee for customers who may be found guilty after using their services.
TicketKick Customer Service Representatives can be reached at (800) 580-1902 or at questions(at)ticketkick(dot)com. For press inquiries, TicketKick's Vice President can be reached at (619) 569-1001 or at sara(at)ticketkick(dot)com.
###