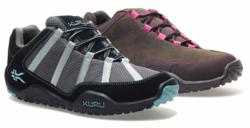 When you already have the world's most anatomical technology for hiking shoes, it's hard to make the Chicane even more comfortable. But that's just what we did!
(PRWEB) January 04, 2012
An innovative, young company has wasted no time in becoming a leading shoe brand when its Chicane hiking shoe nabbed the 2011 About.com Reader's Choice Award for the Best Trail Shoe, beating industry veteran brands.
Hot on the heels of this Reader's Choice Award, KURU is introducing two new mens and womens updates to the Chicane. These updated styles feature on-trend colors and are available now at KURU's website. These new styles include an all-new rubber outsole with aggressive lugs to provide even better traction on the trail.
About.com's Lois Friedland said the Chicanes "molded around my feet and were as comfortable as bedroom slippers, but still offered enough support for hiking on trails, in mud and in snow. The hiking shoe's low side cut is a blessing for women with low ankle bones". The Chicane also features durable uppers for long trail life and a gusseted tongue to discourage debris from entering the shoe while out on the trail.
KURU Footwear is based around the concept of, "If your feet aren't flat, why are your shoes?" The proven KuruSole™ technology has been biomechanically optimized to custom mold to the shape of your feet. The technology includes an orthotic component molded into the footbed.
The company says the KuruSole™ technology results in the world's most anatomical footbed for hiking shoes. Found in every pair of KURU shoes, this revolutionary technology helped the Chicane hiking shoe nab its top spot.
About.com reaches approximately 40 million unique visitors a month, and holds an annual Reader's Choice Awards contest, asking visitors to vote for their favorite brands in various categories. This is not only KURU's first About.com Reader's Choice Award, but also its first time as a nominee.
The exclusive features of KURU hiking shoes can be found at http://www.kurufootwear.com/
Contact: Rob Romero
rob(at)kurufootwear(dot)com
Phone: 801.783.4523
###