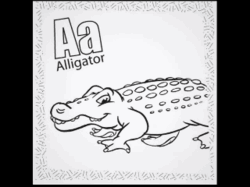 The ABC Flash card has unique origami style design that makes children want to learn.
Jamestown, NC (PRWEB) January 10, 2012
Memory Cross has created a set of origami style flash cards that help children learn their ABC's. Children learn faster and easier using these cards because the design allows them to interact with the cards in multiple ways. Each card has a picture of an animal which helps them remember the letters. Children can also color on the card and it's unique folding design captures the attention of young minds. After the kids finish coloring on the cards they can be used as flash cards to further help children learn.
Each card has four panels that make a never ending loop. This unique design captures children's attention, which makes learning their ABC's fast and fun. Kids literally can spend hours coloring in and playing with this set of cards. You won't find that engagement on any other printed product.
The cards are printed in the United States and packaged six to a pack with a retail price of $4.95 and are available wholesale as well. For parents with iPhones there is an accompanying app available on the app store. Search iABC Noah in the app store. To see a demonstration of this unique card click on the video.
About Memory Cross Inc. Memory Cross creates origami style folding cards that are primarily used to share the Gospel and teach children the Bible. Memory Cross also creates cards that are used to help children live healthier lives and learn life skills. The cards are available retail and wholesale.
###