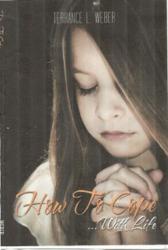 " Your book is a good way for me to get lots of my questions about my life answered."
Toms River, NJ (PRWEB) January 02, 2012
Included are 320 examples with answers to our frequent personal and business questions and concerns about: faith, children, church, fellowship, holidays, missions, money, prayer, self-worth, life, death, business and more.
Originals By Weber, Terrance L. Weber, owner of Toms River, NJ and an accomplished professional advertising copywriter, announces availability of this new E-Book: "How To Cope...With Life" by author Terrance L. Weber.
The author began writing his book in 1966 and a reader, even today, may notice that it tends to be a "mysterious book." But, it is not an ordinary "mystery" book. Instead, the reader may be aware that many rather mysterious "between the lines" almost hidden messages are there as food for later thought. They are messages that all seem to be included as "unwritten" and are there for later contemplation but even so, they are an important "unseen" part of the content of each page.
Weber began writing "How To Cope...With Life" when the pastor of his church learned that Weber was a professional advertising writer and he asked Terry to write a few inspiring lines each week to be included in the church's Sunday bulletin. At the same time the pastor suggested that Weber start each story with a prayer asking God what he wanted to say to those weekly readers. Then the pastor instructed: "Terry, you should write whatever the Lord tells you to write." Weber later commented: " I have continued to write those little stories that prayerful way ever since."
The e-Book version of "How To Cope...With Life" will be available in a week or two, It can be ordered now for delivery after publication (soon).
During the following weeks, months and years people often asked Weber to: " Please make some copies of your stories so I can give them to my friends who need to read what you said in last week's church bulletin."
It was never Weber's intention to write a book, but over the years there were so many requests for those stories that it became obvious that they needed to be organized and made into a book that could get greater circulation than just the small group of people in his church.
When Weber was asked: "What are some of the comments you get about your book?" He answered by saying: "Let me give you few examples:"
" What a great legacy of words in e-book format!"
"I find your book very helpful as a daily guide, I read it each morning before going to work."
" During group discussions, we use your book as an idea starter."
" Your book is a good way for me to get lots of my questions about my life answered."
" I have young children and this books helps me teach them in many ways."
This new book is available now in E-BOOK format for $.99. In paperbook format ($19.95) and Hardcover @ $29.95. An order can be placed NOW for delivery within a week or two. For more information about this new book: "How To Cope... with life", write to Originals By Weber at 338 Alabama Avenue, Toms River, NJ or, call 732-864-0353 or 877-309-8382. Excerpts from the book can be previewed at the following website:
http://www.yrret.stirsite.com/page/page/3858700.htm
App for smart phone: http://codu.co/c14197
# # #