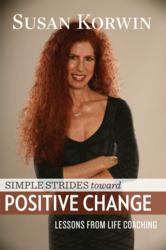 Happiness and a fulfilling life aren't just about the outside. The inside needs to be solid if the foundation is to be stable, says Susan Korwin
Red Bank, New Jersey (PRWEB) January 09, 2012
Newly released in January, Simple Strides Toward Positive Change: Lessons from Life Coaching is based on Life Coach Susan Korwin's years of experience helping people change their lives for the better. Her warm, supportive advice helps readers understand that while change isn't always easy, it's always possible. Susan focuses on five areas she knows make a difference in life coaching; Troubleshooting, Creating Peace Within, Conditioning Yourself for Success, Exercise and Eating Right, Beauty and Personal Style. The book is now available for purchase on Susan's website and on Amazon for Kindle.
The thoughts that are in this book are like a donation magically dropped into a special place in the heart. Susan says: "For many years, people, including total strangers, sought my advice on subjects ranging from style to relationships to exercise and personal wellness. I was always quick to help, whether standing on line at the grocery store or while comforting a friend in a dilemma. I truly believe we all have unique talents that should be shared with others. Once my three sons were older, I decided that all the advice I was giving out would make for a great career choice. I worked as a personal shopper, and found that most of my clients regularly criticized their own appearance, calling themselves fat and ugly. That always amazed me, because there was no basis for it in reality. It was then that I knew that happiness and a fulfilling life weren't just about the outside. The inside is what needs to be solid if the foundation is to be stable."
Susan decided to become a Life Coach after realizing the great need for gentle guidance through life's obstacles. The training program she mastered through the prestigious Life Coach Institute was a difficult course of reading books, listening to CDs and finally being tested to gain certification. Taking the course taught her a lot and helped to adjust her thinking and reactions. Just as a coach runs out onto the field to revive an athlete's flagging spirit, a Life Coach revives the spirit of anyone feeling pulled down by negativity. There may come a time when someone feels stuck or frustrated and can't see the potential of a situation. At those times, we often simply need a little push to reconnect. Life coaching can be that helping hand.
Like many others Susan has experienced anxiety, insecurity, feelings of hopelessness and a lot of other negative feelings. She learned, through much hard work, that bad habits can be broken and negative thoughts can be reversed. Who better to empathize than a person who has been there?
To share her thoughts, Susan has written numerous articles on her blog susankorwin.com and has a huge fan following on Facebook Susan-Korwin-Life-and-Style- Consultant. Because she gets many personal emails and letters of appreciation from her readers, she decided to create a book based on her articles, which in turn are based on the lessons learned through life coaching. It's her way of sharing hard-earned experience with friends—including the many friends she's never met and the friends to meet in the future.
# # #