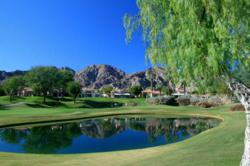 Most people that come to the desert are investing in a lifestyle for their family and friends
La Quinta, California (PRWEB) January 03, 2012
Sheri Dettman, Principal Realtor of Sheri Dettman & Associates in La Quinta and the number one Realtor associated with Keller Williams Realty in the Palm Springs real estate market offers some fresh tips to help potential buyers find their perfect place in the sun.
The Palm Springs area is home to hundreds of popular resort-style golf and country club communities offering golf, tennis, fitness facilities, social activities, and much more. But what's the best way to find the perfect home away from home when exploring Palm Springs real estate?
A good place to start is to definine the kind of lifestyle and important features desired in a new or resale desert home. With lots of great community choices it's helpful to make a list of desired amenities such as golf, tennis, fitness or social programs.
According to Sheri, "Most people that come to the desert are investing in a lifestyle for their family and friends rather than just purchasing a home or condo. The process is about so much more than Palm Springs area real estate. It's about finding just the right fit for each persons lifestyle."
Since so many Palm Springs real estate buyers start their property search online, Sheri Dettman & Associates developed an extensive real estate website that profiles dozens of golf and country club communities as well as popular non-golf communities in the desert cities of La Quinta, Indian Wells, Palm Desert, Rancho Mirage, Palm Springs and Indio. Their real estate team has shot thousands of magazine quality photos that are featured throughout the website.
Over 57 desert communities are profiled online including club membership, HOA information, photos, maps, property listings and more. For a broader city-by-city view of MLS listings website visitors can also use an 'MLS Property Search' area of the website that breaks down the listings city-by-city, by price range and also features bank owned property listings.
"An informed buyer can usually make the best choices," Sheri said. "People say the website is easy to use and really helps them get to know the desert real estate market. Prospective buyers can also take advantage of numerous online articles with helpful information about desert home and condo ownership."
Sheri and her team can also arrange private tours of golf and country clubs in the desert as well as arranging viewing of any property listed on the Desert Area MLS. During the season Sheri suggests 24 to 48 hours notice before viewing properties in order to arrange access.
Lastly, Sheri suggests using a busy and experienced Realtor as your personal guide. The average Realtor completes just seven transactions per year†. In contrast Sheri completed 73 transactions in 2011. Sheri believes that it's hard to stay on top of the real estate market if you only work at it part-time. Less experienced agents aren't as familiar with as many communities and properties and they certainly don't have much experience negotiating transactions on behalf of their clients.
To discover more about Palm Springs area real estate visit: http://www.YourResortHome.com
About Sheri Dettman & Associates
Sheri Dettman & Associates is associated with Luxury Homes by Keller Williams Realty, the second largest residential realty company in North America. Sheri heads the number one Keller Williams Realty team in the desert out of over 400 agents and ranks as the number one individual agent associated with Keller Williams Realty in the desert.
† Source: National Association of Realtors® 2010 Member Survey. The average Realtor reports completing only 7 real estate transactions during 2010.
# # #