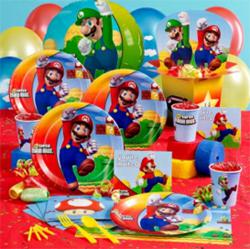 Super Mario, Ladybugs, John Deere, Monster Jam, and Construction Pals birthday supplies show promise for remaining bestsellers this year, too
(PRWEB) January 02, 2012
KidzBirthdaySupplies.com - a leading online vendor of kids birthday supplies - offers everything moms need for hosting a themed celebration that kids will remember for a lifetime.
The company is announcing its top 5 kids birthday themes of the past year: Super Mario, Ladybugs, John Deere, Monster Jam, and Construction Pals.
"And they show promise for remaining bestsellers next year, too. Super Mario was the best selling birthday theme of 2011, as it has been for many years past. This colorful character has delighted kids for a generation now, and shows no sign of stopping." said Patti Lauwers, owner of KidzBirthdaySupplies.com
As a close second comes the Ladybugs theme. According to Patti, "It's no wonder that LadyBugs birthday supplies are a huge favorite of moms and their little girls.The theme offers tons of fun, dozens of colorful items that will bring a party to life."
John Deere farm equipment has been around for generations. So, it's no surprise that birthday supplies that echo all the traditional values they evoke should be so popular. Some things stand the test of time well and that goes for both the equipment and the birthday supplies patterned after them. Party planners and kids choose these time and time again.
Monster Jam may be the relative new kid on the block but it continues to be among the best selling birthday themes for boys. The Mattel-designed toys and the party supplies on which they're based bring all the excitement of the real events to a celebration. Month after month moms keep coming back for more.
A similar birthday party theme - Construction Pals - gives Monster Jam a run for the money. Ideal for 1st and 2nd year birthday celebrations, these party items make every mom think of their child's favorite Disney characters. The art work resembles the hugely popular Cars series.
No matter which of these birthday themes a party planner selects kids get really excited. These top five, and many of the 150+ other kids birthday themes sold by KidzBirthdaySupplies.com, show every sign of remaining popular in the year to come. Even the Smurfs have become known to yet another generation thanks to the recent popular movie.
For more themes and information on kids birthday supplies, please visit http://www.kidzbirthdaysupplies.com
###