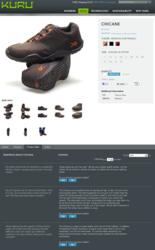 The only way we'll keep this kind of loyalty is if we continue to provide world-class customer experiences, and our new website helps us deliver on that promise.
Salt Lake City, UT (PRWEB) January 09, 2012
KURU Footwear, a leading social-web driven footwear brand, has just launched an all-new e-commerce website. This new website includes advanced social features to help customers better find the shoes that best fit their needs.
The company's new website also showcases the brand's new, updated color palette. KURU worked with a leading marketing agency in Salt Lake City to refine the brand to even better reflect the brand promise and resonate with consumers.
The new website includes industry leading benefits such as:
1. Free Shipping. For the first time in its history, KURU now offers free standard shipping on all domestic orders. In a turbulent economy, this is a significant step for a small brand like KURU. "We know that times are tough and giving free shipping to our customers is a small way to help ease these financially challenging times" said Rob Romero, Customer Experience Manager.
2. Product Questions and Answers. Almost none of the major internet shoe retailers allow shoppers to ask questions about a specific product within the product details pages. KURU's new website allows shoppers to ask questions about specific products after which one of the company's KURU Guru's will answer the question. These answers are then posted live to the specific product. This allows other shoppers to see previously asked questions and answers.
3. Social Shopping with Facebook Comments. Almost all the static pages on the site include Facebook's comments plugin which allows shoppers to post comments both on KURU's website and to their respective Wall on Facebook. This enables shoppers to have a more social shopping experience and get feedback from their friends prior to making a purchase.
KURU started in 2009 as a "better shoes with superior technology over the internet" company. The company has realized exponential growth which has created its own challenges. With this growth, the company reports increased loyalty from its customer base.
According to Bret Rasmussen, Founder and CEO, "it's not uncommon for the following scenario to occur. A customer who has multiple pairs of our shoes calls us to tell us they're holding out on buying a new pair of shoes until we get a new shipment of their preferred style. They then tell us this is because they 'will only wear KURU'. The only way we'll maintain this loyalty is if we continue to provide world-class customer experiences, and our new website helps us deliver on that promise."
About KURU
KURU is America's most ergonomic active footwear brand. The brand is sold exclusively via the internet. KURU's direct through-the-web shopping experience allows the brand to promise improved service, superior products and a more informed shopping experience for their customers. KURU launched their internet driven business model in 2009 and now offers footwear in multiple categories including hiking shoes, walking shoes, casual shoes and travel shoes.
###