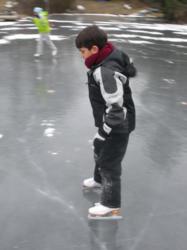 While Boston's certainly a big hockey town, there are plenty of families looking to ice skate just for the fun of it.
Boston, MA (PRWEB) January 04, 2012
Ice skating was recently found to be one of the top winter activities in Boston and New England according to statistics on Boston Centeral, the leading website for things to do in Boston. The Boston ice skating fun never stops in the winter with a wide variety of options ranging from the Frog Pond Ice Skating rink near the common to many outdoor and indoor rinks scattered around Boston and surrounding towns.
Boston Central offers free information on ice skating rinks including locations, hours, and prices. While the outdoor rinks are dependent on weather, the indoor rinks offer a great option for a fun activity regardless of whether Mother Nature is cooperating or not. Skating is a fun activity in which familes can partake during the day or even at night on weekdays and weekends alike. And with a large number of rinks around town, most families can access a rink with just a short drive.
Some families are very serious about their skating - Boston is a big hockey town, after all - and then there are those that are into competitive figure skating as well as other sports involving ice skating. However, many families are in it just for the fun. After all, winters are long in Boston, and without some fun activities to entertain, it feels even longer. Ice skating offers a nice reprieve in the midst of winter.
Boston Central offers a handy free database of activities and events in the Greater Boston and New England area as well as a weekly newsletter summarizing the top picks for each region.
About BostonCentral
BostonCentral is the leading website for family-friendly events, activities, and parenting resources for the greater Boston and New England area. It offers a weekly newsletter along with a website containing in-depth information on activities, family-friendly events, and parenting resources. Readers say that they often rely on the newsletter to plan their family activities and find the website to be an invaluable parenting resource. For more information or to sign up for the newsletter, visit http://www.bostoncentral.com.
###