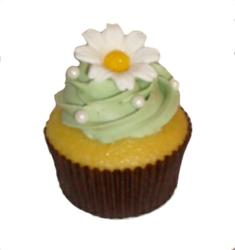 "Many cupcake shops in the Dallas Fort Worth area have delicious cupcakes" co-owner Tim Dougherty says, "but ours are a step above providing the original decorations that customers love."
Garland, Texas (PRWEB) January 02, 2012
On Friday, January 6, 2011, the newest custom cake and cupcake bakery in Garland, Texas will begin offering delicious decorated gourmet cupcakes from their display case for immediate pickup. These cupcakes will be available on Fridays and Saturdays from 10:00 a.m. until 6:00 p.m. Unlike other Dallas cupcake shops, Mon Petite Cake Shop creates beautiful one of kind cupcakes. The cupcakes are not only absolutely delicious, but beautiful as well. Each cupcake has a dainty decoration on top, not just sprinkles or colored sugar. Take a look at these beautiful cupcakes!
"We are so proud to offer these types of cupcakes to the area," says Mon Petite Cake Shop co-owner Tim Dougherty. "Since opening in November 2011, we have been offering cakes and cupcakes by advance orders only. We are very excited to welcome our customers to drop by the Shop for our amazing cupcakes now."
Mon Petite Cake Shop offers daily flavors like their "PowderPuff" white cupcake, which is to die for. This is unlike any cupcake you've had before. Their daily flavors also include a rich chocolate fudge cupcake, luscious red velvet, cookies and cream and more. They also offer a rotating flavor as well. To celebrate 2012 and their Grand Opening, the first rotating flavor will be a delectable pink champagne cupcake. Read more about their delicious flavors!
Owned by husband and wife team, Mon Petite Cake Shop is a custom bakery that specializes in custom cakes and cupcakes. While the Company has been in business for over 10 years, they have been based in Garland, Texas for a few short months. Mon Petite Cake Shop offers custom birthday cakes, wedding cakes, baby shower cakes, anniversary cakes, corporate event cakes, custom cupcakes and more. They are quickly becoming a front-runner among Dallas custom cake shops and cupcake shops.
Mon Petite Cake Shop is located at 908 E. Interstate 30, Garland, Texas 75043. You can also visit their website at http://www.monpetitecakes.com for information and to see their beautiful cake and cupcake gallery. Stop by and enjoy a cupcake at Mon Petite Cake Shop.
###