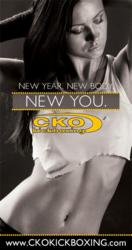 the definition of insanity is doing the same thing over and over again, but expecting different results.
Hoboken, NJ (PRWEB) January 03, 2012
The "definition of Insanity is doing the same thing over and over again but expecting different results." Joseph Andreula, CEO of CKO Kickboxing, says this statement is 100% accurate when it comes to the fitness industry. Year after year, most if not all revelers have the same ole New Year's resolution-to start off by joining a gym, and committing to going 2-3 times per week. After all, this year will be different than last!
And of course, January 1st, everyone is ready to go-brand new sweat suit on, water bottle in hand, and ready to hit the "gym". Most gyms are at full staff, ready to get members to sign contracts and fork over their credit cards. After all--many gym owners know that the average person is feeling guilty for partying hard and over-indulging during the holidays. Typically, on January 1st, the gym is packed wall to wall. By mid-February, the gym is at half capacity. And by April 1st, most gyms look like they are going out of business.
"NOW is the time to STOP THE INSANITY", says Joseph Andreula. After all-the definition of Insanity is doing the same thing over and over again but expecting different results.
Step1 – Change Your Routine: If you are going to the same old typical "gym"; the same gym that had you unmotivated after just one month, you can't expect that something is going to miraculously change.
Sure, these gyms have brand new shining treadmills, ellipticals and bicycles all ready for their members to get on IF they are not all occupied. There is nothing worse than having to wait on line to get on a treadmill. The question is, how many minutes will the average person last on the treadmill before boredom sets in? Most members play the towel game, where they cover the treadmill to avoid looking at the clock. When it feels like forever, the towel is uncovered only to discover the reading shows 7 minutes completed and 23 calories burned and 43 more minutes to go. The best music in the world can't take the boredom away.
Step 2 - Stop Thinking Fiscally Fit Always = Physically Fit: The gym that just opened up in your neighborhood, for $10 a month simply does not care about your results. These gyms bank on volume in their memberships, not a member's individual results. They know most if not all members will come in January 1st, ready to sign a contract. The gym will continue to bill a member knowing full well, that the credit card will still be charged, for months if not years after the member stops coming in February. In fact, most gyms bank on this!! Again, it's all about VOLUME. (One has to wonder if a gym really cares about results when offering Pizza for customer appreciation night).
Step 3 – Find Something You Love: Workouts shouldn't cause more stress than they relieve. If you actually dread going to the "gym"—save your money and don't bother. You will look for every excuse NOT to go, including reorganizing your sock draw by color. You should be addicted to your workout, in a good way of course and want to go as often as possible.
Joseph Andreula, CEO of CKO Kickboxing worked in the fitness industry for over ten years before opening up his very own kickboxing gym. He noticed the same pattern year after year. As a result, he came up with an innovative class that would keep members motivated class after class, and month after month where members would see actual results. In fact, Mr. Andreula states that some of his current members were actually members of his very first gym in Hoboken back in 1997. "The reason they still come is because they never ever get bored of the workout and the results speak for themselves".
CKO Kickboxing offers classes that incorporate Kickboxing, strength training, and calisthenics and are designed to burn up to 1200 calories in just a one hour class. Not to mention, the classes are never the same and the instructors are extremely motivating. So next time, before you even think about joining a "typical" gym, try out a FREE class at a CKO Kickboxing near you and "GET ADDICTED". For more information or to find a location near you, please visit http://www.ckokickboxing.com.
###