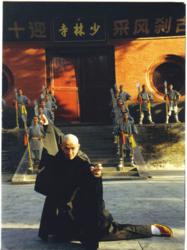 This will be an unprecedented gathering of Martial Arts & Health and Natural Healing Legends and promises to be an extraordinary experience
New Orleans, LA (PRWEB) January 02, 2012
WuBin, Grandmaster of Modern Kung Fu-Wushu from Beijing joins DeRu Shawn Liu, 31st generation descendant of the Shaolin Temple, Grandmaster of this over 1500-year old ancient Shaolin Kung Fu & Zen for a health & cultural Kung Fu seminar tour in the US. World Kungfu champion masters Li Qiang & Chen Zhe will demonstrate and assist the teachings. This is the first time for the two fathers' joint teaching venture together in the US to promote oriental cultural and oriental natural living and healing arts.
Together they will not just talk how to produce the best martial artists in the world but also how to produce and preserve health champions in the world. This seminar will feature, Tai Gong for Health and Wellness instruction, and a Tai Chi Kung Fu presentation along with following topics:

What Makes a World Champion?
Wushu & Olympic Dream – The 50-Year Journey
Wushu –Kung Fu Oriental Cultural & Ancient Wisdom-Zen Meditation
Mind & Body Medicine-Shaoline Internal Arts over 1500 years' tradition and evolution
Seminar Tour Locations and Times:
New Orleans:
Friday- January 6, 2012 at 6pm to 8pm, Tulane University (Uptown)- Lavin-Bernick Center
Kendall Cram Lecture Hall, 2nd floor (more info: 504-835-1877)
Mobile:
Saturday-January 7th, 2012 at 2:00 PM -4:00 PM, University of South Alabama Dramatic Arts Theatre, Laidlaw Performing Arts Building (more info: 251-662-3225)
Atlanta
Sunday-January 8th, 2012 at 2:00PM -4:00 PM, Georgia Perimeter College, Clarkston Campus - Cole Auditorium (more info: 770-286-9808)
About the Presenters:
Wu Bin is the most renowned Wushu Coach in the world. He has produced more champions than any coach in China. Out of his many students, two stand out the most: the action movie superstar, Jet Li, and Asian action movie star, Wu Jin. To add to his accomplishments, Wu Bin was selected as one of the Olympic torch holders for the 2008 Olympics in Beijing.
DeRu (Shawn Liu) is a 31st generation descendant, Grandmaster of the Shaolin Temple, one of two close indoor disciples of the late great spiritual leader and Great Grand Master Shi SuXi. DeRu was named "The Godfather of Sanshou in America" by International Kung Fu Magazine and "Father of American Sanshou" by Central Chinese TV Networks and other international press. He has trained numerous national Kung Fu and Sanshou champions in the US including five world champions. Among them are UFC fighters Patrick Barry and Cung Le.
Li Qiang is a 32nd generation disciple of the Shaolin Temple, 3rd World Traditional Wushu Champion, Legend of Kungfu Masters-World Kungfu Champion and National Traditional Wushu Champion of China. He has a MA degree in Martial Arts Teaching. He has taught Shaolin Kungfu and Traditional Wushu to instructors world-wide.
Chen Zhe is a national level instructor from China. He has taught in both China and the US. He has performed for such prestigious organizations as Central TV networks of China, and the Olympics committee of China in 2008. He is also graduated from the Beijing Sports University.
This will be an unprecedented gathering of Martial Arts & Health and Natural Healing Legends and promises to be an extraordinary experience for any natural health conscious individuals and martial arts fans.
###