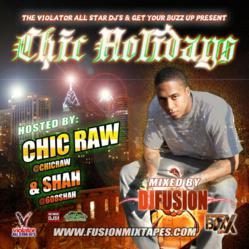 Miami, FL (PRWEB) January 02, 2012
Violator All Star DJ Fusion recently released the [mixtape "Chic Holidays." Coast 2 Coast presents the project, which is hosted by Chic Raw and Shah, in association with Get Your Buzz Up. It is now available for free download. "Chic Holidays" features Chic Raw on tracks with other guest artist appearances from Meek Mill, J. Silva, Jack Scratch, Rich Porter, S.H.A.H. Cypha, Benny Blanco, Nox, and more.
Shay Newman, aka DJ Fusion is an award-winning Violator All-Star DJ whose talent on the turntables and truly remarkable mixing skills have earned him the reputation as one of the top, club-packing DJs in the world. Fusion's mixes have been heard internationally on Sirius XM Radio along with several terrestrial stations nationally. His experience, talent, and artist relationships provide him with access to the newest and most music (both local and international) of any DJ coast to coast. Fusion is also a resident DJ for Extreme Foam Parties, regular host of weekly mix shows on 93.1 JAMZ (WJQM) and 95.9 KISS FM (WKSZ), in addition to his regular appearances on SHADE 45 / G-Unit Radio – Big Sundays with Miss Mimi.
Known for his raw lyrics, Chic Raw has made a name for himself in the underground music world. Darren Martin was born and raised in Philadelphia, and by his sophomore year in high school had already begun to gain respect as an MC amongst his peers. Known for his intense, raw lyrics, he started doing more rap battles in Philly, New Jersey, and Delaware. The underground started to refer to "Chico" as Chic Raw. Though he has faced many obstacles living life in the streets and eventually serving a thirty-six month stint in prison on drug charges, Chic Raw has been able to refocus his life in the pursuit of the music career he always wanted. He has decided that his past will be just that, and with a calm and clear mind is strategizing his takeover.
"Chic Holidays" is available for free streaming and download at http://coast2coastmixtapes.com/mixtapes/mixtapedetail.aspx/chic-holidays-chicraw-kingfusion-djsupa-608shah
###