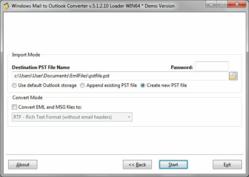 Lowest Price for Holidays!
Markham, ON (PRWEB) January 17, 2012
There are a number of reasons why users upgrade from Windows Mail and Windows Live Mail to Microsoft Outlook. Microsoft Outlook is a powerful, integrated solution that is an industry standard… but it also uses a different file format than Windows Mail and Windows Live Mail. Instead of losing all messages and starting from scratch, windowsmailtooutlook.com team offers a more convenient solution for switching: Windows Mail to Outlook Converter, which takes messages in EML or DAT format and converts them to PST, the format used by Microsoft Outlook. The conversion is quick and complete. It preserves not only message text, but also subjects, dates, attachments, and folder organization.
What distinguishes Windows Mail to Outlook Converter from the clones flooding online software sites? To begin with, the interface. The interface is clean and uses a step-by-step wizard that clearly indicates what actions are necessary. Less confusion means fewer mistakes. Additionally, the program's proprietary conversion engine is faster and more thorough than its fly-by-night imitators. Perhaps even more importantly, the conversion algorithms are carefully designed so that in no case can they affect, damage or otherwise harm the original data. Manual conversion takes more time and involves more risk; with Windows Mail to Outlook Converter by windowsmailtooutlook.com, conversion is fast, complete, and absolutely safe.
Microsoft Outlook is attractive to business, corporate and home users for its phenomenal productivity tools. Access to existing messages and contacts allows users to be productive right away and make the most of the technology. Windows Mail to Outlook Converter is the silver bullet for safe, professional, complete migration!
Product Site: http://www.windowsmailtooutlook.com/
Product Description: http://www.windowsmailtooutlook.com/windows-mail-to-outlook-converter-description/
###