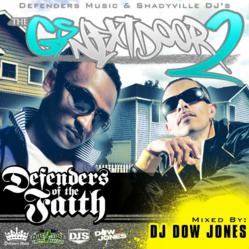 Miami, FL (PRWEB) January 03, 2012
Hip hop duo Defenders of the Faith recently released their mixtape "The G's Nextdoor." Coast 2 Coast Mixtapes presents the project in association with Defenders Music and Shadyville DJs. Hosted by DJ Dow Jones, it is now available for free download. "The G's Nextdoor" features Defenders of the Faith on tracks with guest artist appearances from Fizal Stars.
Defenders of the Faith are a hip-hop/rap duo hailing from Vancouver, B.C. Established officially in 2004, the duo consists of long time collaborators and solo artists Checkmate and Concise. Checkmate is well known as one of the principle writers and performers in the Juno award winning hit single and video "Northern Touch" (Rascalz, 2000), and his two full length titles "Welcome to the Game" (2001) and "Checkmate Presents…Game Related" (2005). Concise is well known as one of the principle composers of the hit single "Fuel Injected" (Swollen Members, 2003), and his Juno-nominated solo full-length "Fame" (2005).
As a group, Defenders of the Faith released their debut full-length album "African Kings" in 2008, as well as two mixtapes "Pandemic" (2008) and "Power and Glory" (2009). These projects have all been released under Defendersmusic.ca, a label and website formed in 2007. The duo has toured extensively throughout Canada and the western United States with acts such as Raekwon, Kardinal Offishal, Ludacris, Ciara, Three 6 Mafia, Rascalz, Lloyd Banks, 2 Live Crew, and De La Soul. They have also collaborated with a wealth of talented artists including Royce da 5'9 (Shady Records), Daz and Kurupt, Sticky Fingaz (Onyx), Devin the Dude (Rap-a-Lot), Choclair, Swollen Members, and Reign (Brassmunk).
Both Checkmate and Concise have appeared in numerous videos, publications, and websites including Much Music, MTV Canada, CTV, CBC, The Georgia Straight, Peace Magazine, TSN, Toronto Star, FLOW FM, BEAT 94.5 FM, and hiphopcanada.com.
For music, videos, and any other information regarding Defenders of the Faith please visit defendersmusic.ca.
"The G's Nextdoor" is available for free streaming and download at http://coast2coastmixtapes.com/mixtapes/mixtapedetail.aspx/defenders-0f-the-faith-the-gs-nextdoor-2
###