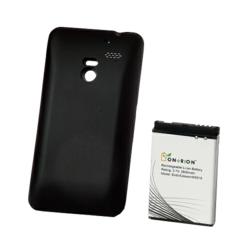 Let's Embrace Green in Life
Dallas,TX (PRWEB) January 03, 2012
If current sales of the newest OnTrion extended and premium mobile phone batteries are any indication, a lot of individuals are going to be finding an LG ESTEEM MS910 under their tree this Christmas morning. Extended batteries for that particular Metro PCS smartphone model have posted the highest sales since OnTrion, the manufacturer of standard and extended cell phone batteries, recently introduced them to its online inventory (http://www.ontrion.com).
According to one CNET reviewer, the LG ESTEEM "has a killer camera but dying battery," which could make for some not-so-happy gift recipients once the holiday season is over. OnTrion has resolved this issue, however, with the introduction of its new high-powered extended battery with door. With an OnTrion battery in their LG ESTEEM MS910, mobile phone users can get up to triple the usual airtime.
The OnTrion LG ESTEEM MS910 for Metro PCS extended-life battery has been approved by the Federal Communications Commission. This stamp of approval attests to its superior quality.
For more information on how to maximize the power-up time of an LG ESTEEM MS910 smartphone, contact Jesse Khurana toll-free at (877)676-0877. For additional product information, visit OnTrion online at http://www.ontrion.com or drop by Booth #4324 at the 2012 International CES exhibition.
About OnTrion
OnTrion is a veteran manufacturer of branded mobile phone batteries, chargers, Bluetooth and other mobile accessories. The OEM-quality batteries the company produces come in both standard and extended varieties and are compatible with all the latest smartphone models. OnTrion is committed to providing its customers and distributors with the highest-quality products and services, thereby instilling 100% trust, faith and satisfaction in them. As such, innovation, ruggedness and exceptionality are the cornerstones behind every OnTrion product.
CONTACT INFORMATION:
Jesse Khurana
13650, TI Blvd., Suite #309
Dallas, TX 75243
(877)676-0877
http://www.ontrion.com
###