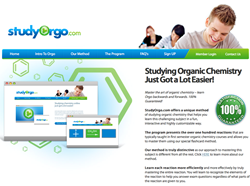 Learn Organic Chemistry The Easy Way!
(PRWEB) January 03, 2012
In order to truly study organic chemistry and learn Orgo backwards and forwards, one must understand the interrelationship between the various functional groups and reactions. In order to help visualize this, StudyOrgo.com has prepared their unique Reaction Roadmap Tool. The Roadmap is laid out in front of your eyes and the reactions represent the "paths" to various "destinations" which are the functional group categories. You may click on any reaction and you are brought to the corresponding flashcard page dedicated to that reaction.
The organic chemistry flashcard pages are the heart of the StudyOrgo.com program. Traditional flashcards in organic chemistry present reactions only one way. With StudyOrgo.com you decide what the flashcard will look like by deciding what to reveal and what to conceal. You may then flip over the hidden information to test yourself. This helps students prepare to answer questions regardless of the way the reaction is presented on the exam.
StudyOrgo.com offers affordable monthly, full semester, and long term rates. Packages start at just $19. Upon receipt of payment, members then have access to all of the resources. Between the flashcard study pages, study charts and reaction roadmap, organic chemistry students are well equipped to learn organic chemistry backwards and forwards.
Get started today!
Visit: http://www.studyorgo.com/signup.php
###